Wednesday, June 24th, 2020
Maggie Tales
Hi guys, it's me, Maggie! See here I am resting by my mom when she's working.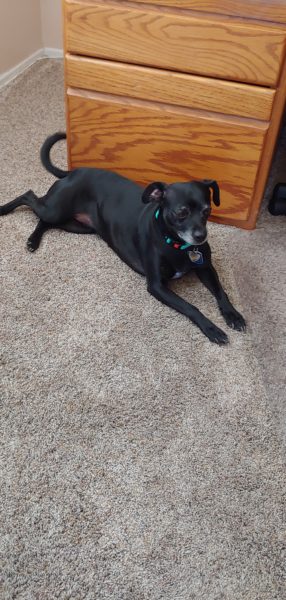 Did you know? I have two super important jobs. One is making sure my mom doesn't work too long. I'm pretty good at that. I make her get up to take me on walks, get me treats, let me out back and, of course, eat dinner at 4 p.m. sharp. See my mom is not supposed to slip into her pre-Maggie days of working too long at the computer and hurting her bones and stuff.
Good thing I'm here, right???
Want to know my other job? Mom gave my a pro-mo-tion! It used to be I just played chase with my lizard friends.
But…um…sometimes I accidently, totally not on purpose, kill them. I may have done that twice this week so far.
Oops.
Anyhow, Mom says I'm now the Director of the Lizard Depopulation Project.
I'm not sure what those words mean, but I suspect it's that I'm super-duper fast and really good at catching lizards when we play chase. And I am!
Those are my important jobs, what are yours?