Sunday, February 7th, 2021
Weekend Roundup
More like Roundup Lite. Not much happening, and I'll take it. Here's the highlights:
–Maggie's been fine, no more upset stomachs. She's sick of the cone, but I'm holding out until Wednesday when the stitches come out, then that cone is history.
–I tried to write. I spent more time thinking and researching and plotting. But I'm addicted to the story so that's good. I figured out something amazing about the bad guy and why he needs Savi. I'd written a synopsis for this book, but the story is taking on a life of it's own and that's always magical (as well as messy and a ton more work!).
–Friday and Saturday were headache hell. Sunday morning I felt a bit better and was finishing my French toast with blueberries and bananas when I had a wave of nausea. It came and went in a few minutes, a lot like being pregnant. I Am Not Pregnant! But I am over this headache, so I marched my butt to the pharmacy the second they were opened and got the super Sudafed that requires a driver's license and blood sample to buy. So far by at 5pm on Sunday I'm doing better. Fingers crossed it works and I don't have to go to the doctors to treat an annoying sinus infection. FYI, no fever, no congestion, no real illness. The symptoms are classic sinus crap.
–I told Wizard I want a goat. Guys…his expression was hilarious. But being Wizard, he recovered quickly and told me I can't because, and I'm quoting here, "Goats break in the house when you're asleep and eat the shirt off your back. We can't afford to replace all our shirts." Then we had this long and serious discussion about when it's appropriate to get a goat. We agree on the parameters, LOL! Spoiler alert, I won't be getting a goat.
–Turbo, with his dad's help, video-called us twice. We miss him! But Turbo called us because he wanted to check on Maggie

Turbo told his mom that "Maggie fought the monsters, hurt her stomach and had to go in an ambulance, but the monsters are in jail." How cute is that? Kids have such fun imaginations and his parents really encourage his stories. We should be able to go visit him next Saturday.
–PROMO ALERT: If you haven't read the Savaged Illusions Trilogy, you still have time to preorder the boxed set of all three books at the special price of $3.99. Click on the image to order your copy now!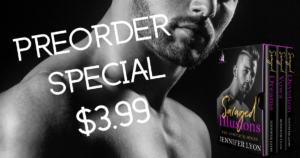 That's it for me. My weekend was fine, not exciting, not as productive as I hoped, but no dramas or llamas, so I count that a win! How was your weekend?