Sunday, March 14th, 2021
Weekend Roundup
The highlight of our weekend was Turbo's birthday. Here's the cake I made.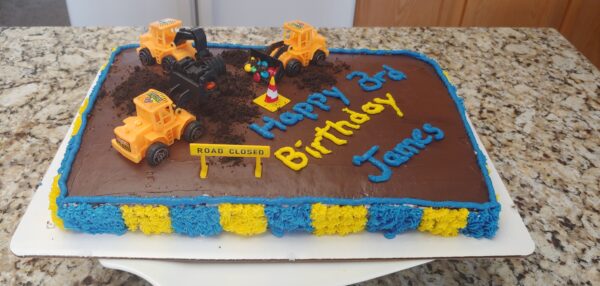 I am so out of practice on doing cakes, but I had fun. The side of the cake that's showing is the "bad" side where I was figuring out how I wanted to do the blue and yellow stripes. I meant to turn the cake around to decorate the top so the "good" side showed. But Wizard came in the house and was helping me layout the design on top and I forgot to turn the cake. **Shrug**  Turbo loved the cake and didn't care about those details. He told me, "It's a construction cake!" After he blew out the candles, he had the tractors digging in the cake, LOL. He also ate all the M&Ms out of the tractor buckets :-). I pretty much guessed that was all he'd eat so I figured I was safe giving him those, and I was right. Overall, the cake was worth a day of work to see how happy he was

It was fun to gather with all our sons and their wives just to hang out and celebrate.
How was your weekend?