Sunday, March 28th, 2021
Weekend Roundup
My weekend rated a Pleasantly Busy Seal of Approval.
Saturday I made Bailey's Hot Chocolate Mini Bundt Cakes I made for my daughter-in-law's birthday:
This set has Bailey's Chocolate Buttercream Frosting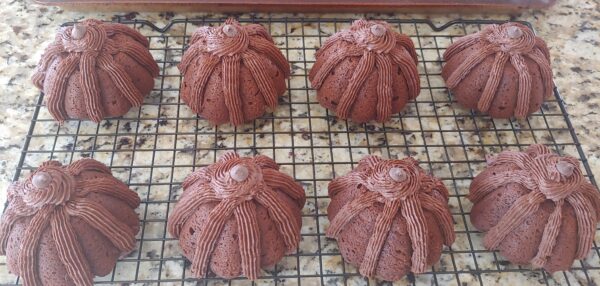 This set has Chocolate Ganache Icing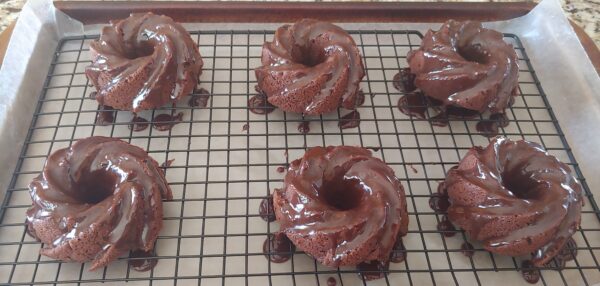 Then we went to their house. It was a lovely afternoon of visiting them, having barbequed hamburgers, and playing with the dogs. Special K dropped by with our grandson, Turbo. It was adorable watching three-year-old Turbo playing with their dogs. They have two pit mixes; Hazel is about 40 pounds and her nature is very gentle. Turbo threw her toy for her and they had a blast. Jett is about 70 pounds, and one of the most confident and balanced dogs I've ever met. However, because of his size, they are more cautious with him around Turbo. Jett's really good with kids in general, but he doesn't realized he could hurt Turbo if he bumped into him too hard, and he'd most definitely lick his face. In fact, he did mange to lick him a couple times, and Turbo laughed. Since Turbo has three dogs of his own, he's used to doggy kisses.
Middle Son and Daughter in law were telling us all about a huge charity event they were a involved in last weekend to help very sick kids in the hospital. They do this every year. My daughter-in-law also does a lot of work for a dog rescue. I love hearing about their passion and dedication to making a difference, and I love that my daughter-in-law recognized this generous, caring side of our son, and helped him direct that energy into such worthy causes.
Sunday I made lactose free double chocolate chip cookies for Youngest, then went over there to see him. He's also working 7 days a week during tax time. I got to see his two dogs (y'all know I love all the dogs, LOL), and see his new nail gun. He LOVES his tools, and is pretty good with them too. He also showed me his various work benches, because of course, you need more than one.  All forms of carpentry is how he decompresses from the daily work of tax and wealth management.
For anyone intersted in lactose-free cookies: I do it by substituting lactose free margarine for butter, and non dairy dark chocolate chips (I use the brand "Enjoy Life" dark chocolate chips), and I make sure the cocoa is 100% cocoa with no milk added. Once I make the dough, I chill it, use a cookie scoop to form the cookies, and put those in the free for 10 to 20 minutes right before putting them in a hot oven to bake. That prevents the lactose free butter from spreading too much, and gives the cookies a soft, almost brownie-like consistency.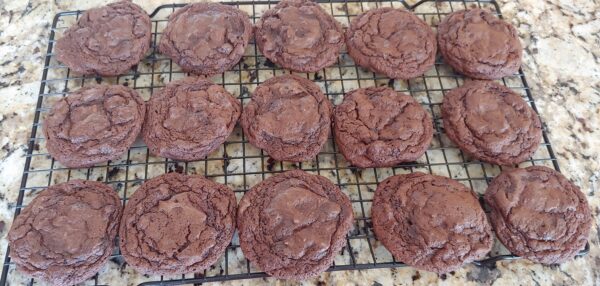 That was my very chocolatey weekend, now I'd really love to hear about yours!