Monday, June 7th, 2021
Weekend Roundup
Fun weekend! Saturday I worked, and since it was a decent writing day, I call that fun.
Sunday was all about…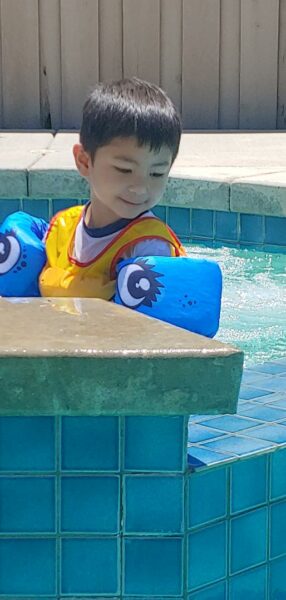 Turbo! His parents dropped him off at 10am. We dug in dirt, played in the hot tub (pictured above), ran up and down stairs a gazillion times, played endless games of trucks, took Maggie for a walk, and had homemade chocoate cookies. We wore him out and he fell asleep five minutes after we put him in the car for the ride home. Our daughter-in-law grilled steaks for dinner too. Totally fun day but no words got written. Turbo takes a village, LOL! He's sweet, well behaved and is a ball of constantly moving energy.
Today it's back to the world of sexy, demanding Wing Slayers. I have a long ways to go, but I'm finally hitting a stride…which will take a headlong slide into a wall again at some point

But for now, I'm strapping in and typing!
How was your weekend?