Wednesday, June 23rd, 2021
Writing Detours
Sorry for the late post. It was scheduled for 1 a.m., and obviously the posting gremlin fell asleep at the button. Anyway, here's the blog:
Before I got Maggie and started exploring, I didn't know that maybe a half mile from my house was this hidden staircase.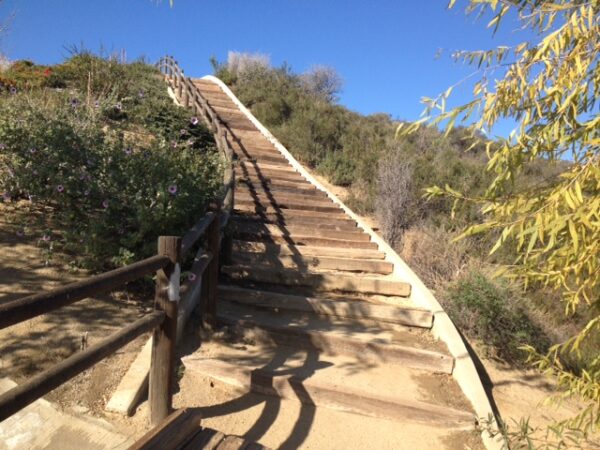 It's leads to a spectacular view of my city including the lake. I found it because Maggie and I deviated from the planned walk and decided to see where a mysterious path would take us–and we discovered a gem (I spell that gym the first time–LOL–that staircase is like going to a gym!)
Anyhow, back to my "planned walks," snakes, coyotes and human threats are real, so I usually give Wizard a general idea where we'll be. But sometimes…Maggie and I can't resist detouring into the unknown and we find a hidden gem.
For me, that's what writing is like. I will try to plot and plan, and I use a lot of that. But often, the characters want to take an unplanned side road and explore.
The upside is we can find more beauty, depth and emotion in our books.
The downside is a lot of mistakes and wasted time.
Every writer must decide for themselves what works best for them. Unless that writer is me. My characters don't care what I want, they yank me all over the place, LOL! But I still find an occasion nugget of awesome story on the journey!