Monday, July 19th, 2021
Weekend Roundup
A weekend happened

Wizard's back stayed the same over the weekend, and we'll see what the doctor says today.
Due to his back, Wizard called Youngest and asked him to fix a broken sprinkler for him. I was so proud of Wizard.  Youngest came over, dug it up, fixed it and then surprised me by brining in his extended ladder and cleaning the hard to reach, high ledge driving me crazy in my living room. (It's the height of a one story roof). Yay!
As it happened, Youngest's wife came with him and hung out with me while I worked on this: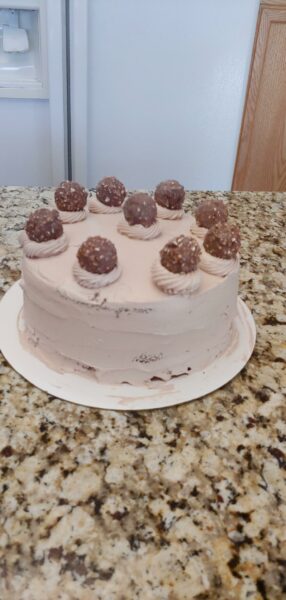 It's a decadent four layer chocolate cake with three layers of Nutella flavored swiss meringue buttercream icing drizzled with Nutella ganache. The frosting job isn't great as the icing was soft, but it came out tasting so good. It has a light, satiny mouth feel to it, and less sweet than American buttercream. I was very happy. I just wish I'd remembered to take a picture when I sliced it to see the layers–that was the most impressive part.  Now that I understand the technique to make the icing, I should be able to adjust it to a little firming icing texture to get a smooth finish.
FYI daughter in law was highly amused at the way I talk to myself while working, especially as I'm adjusting my plan as I go. And when I picked up the heavy cream and shook it–forgetting I had already opened it and hadn't put the lid back on–I heard strangled laughter. I think I laughed too because….seriously??? My cupboards and floors got the heavy cream treatment.
I really should take my act on the road. I'm hilarious.
Sunday was quieter.
How was your weekend?