Monday, September 13th, 2021
Weekend Roundup
My blog didn't post as scheduled

So I'm adding in here the little tidbit that Wizard came home from racing right after I wrote this, and he'd been sideswiped on the freeway. Wizard's fine, but our Ford Edge is banged up. When I saw it, it gave me a chill. I could see where the guy turned into him, slid down the length then hit the edge of our bumper and pried it off a little. I am so grateful that didn't cause Wizard to swerve into other traffic–remember this is the freeway where cars are going 70 miles an hour. It would have been bad, so while this is irritating, the important thing is Wizard (and others who could have been hurt) is fine. It also looks like the guy who hit him doesn't have insurance as far as we can tell, but that's why we have uninsured motorist.
Okay, if you're still with me, here's the blog I originally wrote:
So I might have a problem…
I made a fondant elephant. He turned out cute. Then I tried Eeyore…umm…I liked the ears, LOL. He's a sad-looking Eeyore, but there are a few things I did well so I'll call it a positive learning experience.
After that I remembered the leftover cakes in my freezer. And then I decided it'd be fun to just see what I might come up with using only what I had in the house. This is what I ended up with: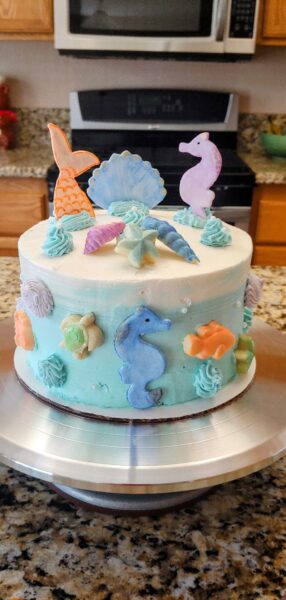 Even with all it's flaws, I love this cake because it's the first one I created with just a theme and using what I had on hand. So I molded some white chocolate, then made a few fondant cutouts, painted them, then did the cake from my head, not an image I'd seen. It was a lot of fun. The only think I forgot was to add some of the blue icing into my white so it would have blended more into an ombre. Otherwise, it's what I was going for, just a fun, sea-themed cake.
In other news, my dress didn't fit. I refused to waste time being sad, and ordered a different one.  I'll return the ill-fitting dress this week.
This will sound silly, but in all my writing frustration, I stopped reading (although I continued to listen to audiobooks). By this weekend, I missed reading romance. I pulled up Silver Silence by Nalini Singh, started reading and enjoyed it. In fact, when I'm finished writing this blog, I'm going to read some more. I'd have sworn I read all her early Psy-Changeling books, but this one's not ringing a bell, at least not yet. Anyway, this is baby steps, but I'm trying to recapture my commitment and passion for writing.
So that was my weekend, how was yours?