Monday, October 11th, 2021
Weekend Roundup
The weekend was fun but a little lonely with Wizard gone. I stayed home and worked on a cake. I'm also fighting off a minor illness (not viral, a stupid infection) that I'll have to go see the doctor for today if it doesn't clear up overnight.
So the cake–the short version is that I made a rock then put a dragon on it. Well it's supposed to be dragon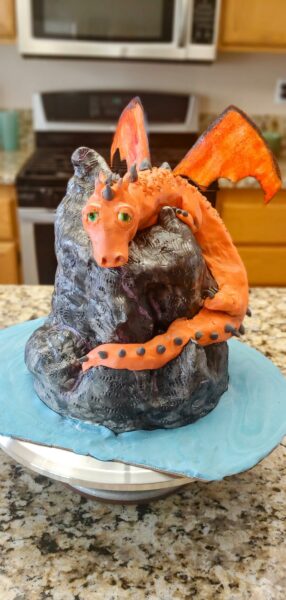 The rock is stacked and carved cake covered in a combination of fondant and modeling chocolate. The fact that the cake didn't collapse mildly surprised me as I didn't have the proper dowel rods or thick straws normally used to support this kind of cake. Cake is a lot heavier that you might imagine. Anyhow, I used flimsy straws as support, but hey, it worked! Although I wouldn't try transporting this cake anywhere–the could end in a major mess, LOL. The dragon I made from rice krispie treats covered in more of the fondant/modeling chocolate combination.  The wings are edible rice paper and floral wire. There was a lot of hand-panting too.
There's a lot of room for improvement

Like the fact that he doesn't have a mouth, LOL. I'm not a fan of the wings, and the body needs work. However I learned a lot and had fun. But whew, that cake was two days of work. I don't know how the professionals do it! My next cake is relatively simple one for my daughter-in-law's birthday so that will be nice.
I haven't talked about writing because it's tiresome to hear my struggles and  I'm thinking hard about what I really want to do. So I'll let that hang there.
So that sums up my weekend, how as yours?
P.S. Maggie says Hi <insert manic tail wagging>.