Monday, October 18th, 2021
Weekend Roundup
Fast but good weekend. Saturday I ended up spending all day making a cake for Special K's birthday. It's a simple drip cake, but I complicated it by deciding to make homemade lemon curd (filling), the most involved icing–Italian Meringue Buttercream, and I wanted to try lemon-white chocolate ganache for the drip.  Anyway, here's the finished product: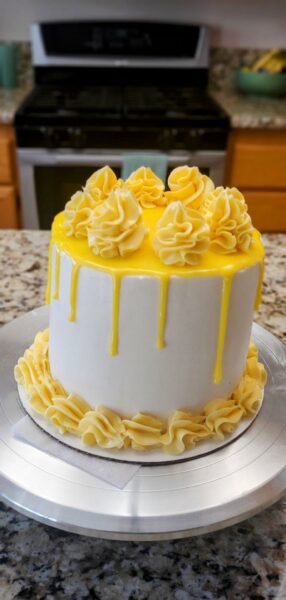 I didn't do a carved cake because I didn't think Special K would want fondant

Sunday, Wizard and I went to breakfast then spent the rest of the day with Oldest, Special K and Turbo, and Youngest son came by to play with Turbo for a while.  We had ribs and chicken for dinner. And speaking of Turbo, I knew he wouldn't care for the lemon cake, he's a chocolate lover like his grandma. But I have bunch of various sprinkles, so I gave him some ice cream and let him pick any sprinkles he wanted for his topping. He loved it!
Oh and Grandpa watched Turbo while the Youngest took me, Oldest son and Special K on a Jeep ride. When we got back–you had to see it, Wizard and Turbo are both sitting still and innocent on the couch. Like I mean they were doing nothing. Turbo doesn't do nothing. That kid has the energy of a tornado. Special K walked in, looked at both their faces, and her mom-radar kicked in. "Okay, Turbo, what did grandpa give you?"
"A cookie," he promptly answered.
Evidently, Grandpa and Turbo had Oreos while we were gone. We all laughed. For the record, Grandpa gave him one cookie, and that's perfectly fine.  But they really need to work on their innocent act, LOL!
This week is packed with various appointments like Maggie's vet, hair appointment, the dentist, my mammogram and other stuff. It just all landed on the same week but that's how life goes sometimes.
So that was my weekend, how was yours?