Monday, November 22nd, 2021
Weekend Roundup
Whew, it's hot, dry and windy here. On the other hand, that's a pretty small complaint to have since other parts of the country deal with real weather problems.
So the weekend was okay. Due to circumstances beyond all our control, we had to move Thanksgiving from my Middle Son's house to mine. So Saturday I got semi organized on that. When I say organized, I mean I bought a turkey, delegated a few things and made some notes

I'll get there. It won't be as nice as if I'd had more time to prep but it will all turn out fine. There's no real pressure on me since everyone is more than willing to help and no one has unreasonable expectations which I sincerely appreciate.
I also made this barrel as a test to see if I could do it.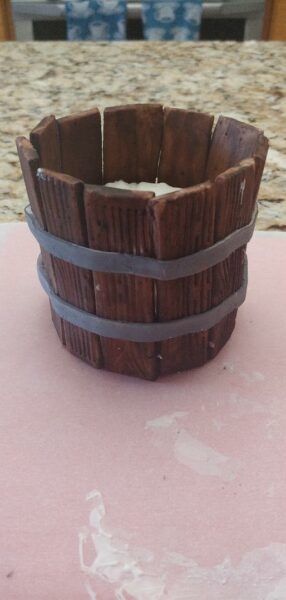 The barrel is fondant that I hand cut, pressed a wood grain into then painted. I used white chocolate to "glue" those fondant planks to a base of rice krispy treats. My plan was to make a barrel full of leaves spilling over onto the cake and cascading down the side. I cut a ton of leaves that I still need to paint, but now I realize that this barrel is likely too big for the cake size I'm making and will look odd. I don't think I have time to make a new one. No big deal, I'll readjust the plan. If all else fails, I'll make a drip cake, those usually look nice. (Ignore the white stuff on the board the barrel is sitting on. That's melted white chocolate I used. I should have cleaned it up before I took pictures, but I was losing the light.)
Sunday I met Special K and Turbo at the zoo. Wizard was racing and CPA boy had some work to do. Turbo spent the bulk of time on the zoo playground making friends. Preschool has been a game changer for him. Covid had narrowed his world dramatically, and this carefully researched and selected preschool has helped him develop amazing age-appropriate social skills. I truly loved watching him interact. Then we saw the animals, had lunch and played a bit more  before leaving. By the time I got home, the heat had drained me.  But it totally worth it for a nice day with my daughter-in-law and grandson.
How was your weekend?