Monday, December 13th, 2021
Weekend Roundup
Before I get into a chatty roundup–I hope all of you and your loved ones are safe from the terrible tornado that hit several states. My heart goes out to all the victims and those trying desperately to find and help survivors.
Now onto the roundup.
Friday, I made mocha cookies, and froze those. The recipe I have is for a small amount of cookies, so I quadrupled it, and then I had to adjust a few ingredients like using expresso powder instead of instant coffee, which meant I had to change the amount used while remembering I was quadrupling the recipe. I used ALL my meager math skills on that batch of cookies, LOL. I'm generally not obsessive compulsive, but when I'm doing that kind of baking, I check, double check, then second guess and recheck. But I must have got it right, so A+ in math for me!
Saturday was Turbo (my grandson) day. As soon as we got to his house, he was thrilled to see us. He had a present for Grandpa–a Lego car set that was exactly like one Turbo has. He is very anxious for Grandpa to build it so they can play with their Lego cars together. Guys, I can't tell you how much I love seeing their relationship and the joy it brings Wizard. Turbo does things with me too, and he LOVED the Santa Clause sucker, but seeing Wizard's joy just doubles my happiness. Yeah, yeah, I know…too sappy right?
We also wrangled (begged) Special K to take some photos of us for a Christmas card with my phone. She was more than willing, and did her best. Wizard tries, but he hates posing, and once he hears a click, he moves. It's like he's going to make a break for it, LOL. It took more than 30 pictures (I counted!) but we got one that worked. The cards are all finished and waiting for me to pick them up–but it was a challenge. That's all good. The bad part? Wizard got to my phone and deleted the hilarious outtakes knowing darn well I would have posted them. That's what I get for talking away with my daughter in law and not paying attention to what the heck he was doing with my phone.
Yesterday, I ran a couple errands, made a batch of dairy free sugar cookie dough, wrapped presents, took an extra long hike with Maggie and then ran out of steam. I still wanted to cut and bake the sugar cookies and make another kind of cookie dough, but I think I'll have to wait. No biggie, but I hate it when my energy doesn't mate my to-do list. **Edited later last night: Cut and baked the cookies, they were tasteless. So those cookies are now history and so is the recipe. I hate the waste, but unfortunately, it happens when testing recipes.
Here's a picture of Maggie on our hike yesterday to make up for the mean one I posted of her on Friday.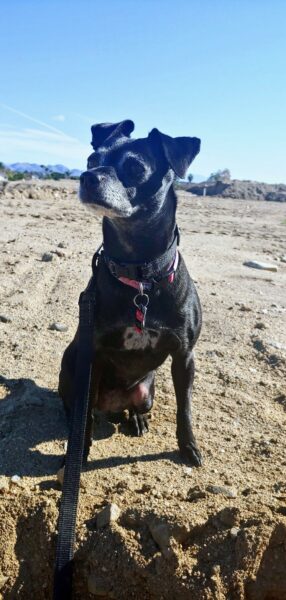 How was your weekend?