Monday, December 20th, 2021
Weekend Roundup
Whew, that was a marathon week and weekend. Today is going to be busy too. But the weekend was good. Saturday I baked (surprise, LOL). Sunday we had the family Christmas Party. Awesome food and priceless family time.
I won't put pictures of all my baking because no one has time to look at all that

I'll just show you the cupcakes:
This is the chocolate cupcakes and mint frosting (green frosting) and the white chocolate raspberry cupcakes with cream cheese frosting (the white frosting):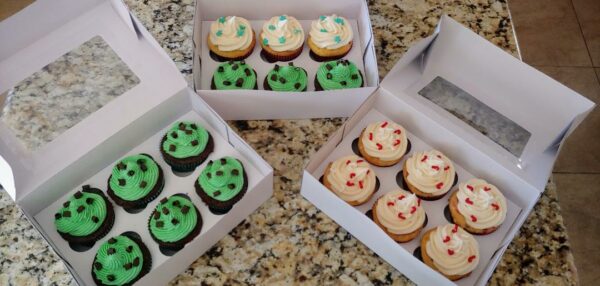 And these ones aren't as pretty, but they are tasty non-dairy chocolate chip cookie cupcakes with cookie dough icing. Youngest son was thrilled. These are for the cookie + dough lovers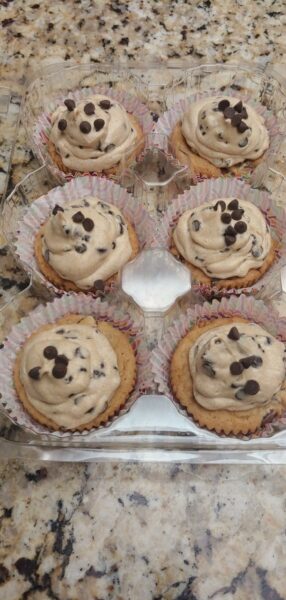 Watching Turbo with his dad, grandpa and two uncles setting off pop rockets (Nerf ones that are totally safe for little kids) made me laugh watching. My grown up executive-type sons turned into little boys right along side Turbo. Kids can really help us shed the skin of adulthood to feel that unfiltered joy.
Oh when Wizard and I were putting wrapping Turbo's big gift, Maggie realized it was for Turbo, ran to the front window, stood on her hind legs and looked for him. Most of the time, Maggie is just Maggie, but every now and again she amazes us as she makes these logical leaps. If Wizard and I are getting toys out for Turbo then he must be coming over. Of course, then we feel bad for her because she looks sad when we tell her he's not coming over. And then Wizard and I realized we've lost our minds like every other dog (or cat!) owner

So that was our weekend, how was yours?