Monday, January 10th, 2022
Weekend Roundup
It was a pretty weekend here! Warm in the days, but very nice. Maggie and I took multiple walks, which is how I got in trouble with a security guard

So Maggie and I've been walking in the field around the new housing track being built. There's a public access road that leads up in the hills so that's okay.
But on weekends, I've been walking through the construction site on weekends, generally staying on the roads. The security guard in the days is brand news. She's sitting in her car at the head of the road by the models, and she was talking (yelling) into her phone. I assumed she saw me but didn't care since she didn't react as I turned the corner on the side walk and zipped right by her. I mean lets be honest, they are there to stop stealing. I'm a middle aged woman walking my dog in fitted jeans and a t-shirt. What am I going to steal? And where was I gonna put it? It was all I could do to fit my cell phone and house keep in my pockets, LOL
But I got about a third of the way down the street and I see some finishing workers (doing finish work inside the models, no heavy equipment work or I wouldn't walk there), sitting on some steps, eating lunch and watching me. That seemed weird the way they were all staring at me.
Then the yelling started behind me.
This security guard–a woman around my age–had gotten out of her car and was yelling, "Excuse me! Hello! Hey Excuse me."
Busted. So I walked back, she started off a bit rough but soon calmed when she realized that I really was just walking my dog. She sort of back tracked and said I could keep going, but I told her no problem I'll go another way that doesn't cut through the track.  I know she was just doing her job, etc. So Maggie and I hiked up a dirt road (it's technically public) and by the time we doubled back and left, the security guard waived, and asked if we enjoyed out walk.  The next day I passed her by staying out of the track and she waived again.  We're friends now

But I told Wizard this is all his fault because he's always telling me to stop being chicken about breaking rules. He laughed and asked me if it was really a big deal. No, but I hate being in the wrong. And I was clearly in the wrong so…it's his fault. Obviously.
Otherwise while I had a mellow weekend.  I'm learning my airbrush, and here's a picture of one of the projects on my dummy (Styrofoam) cake.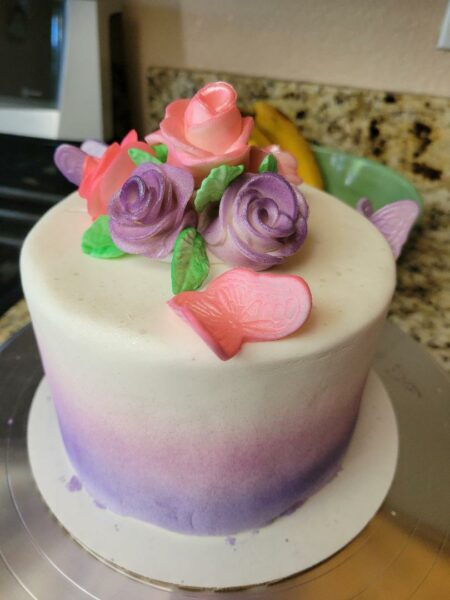 It's all fondant and airbrush work, and it's a process to learn it all

That was pretty much my weekend. How was yours?