Monday, January 17th, 2022
Weekend Roundup
Happy Monday! So overall my weekend was, well, a weekend

Here's the recap:
Friday, Part One: I got my hair done. So that was interesting. For one of the few times in my life, my hairdresser was telling me she has a lady who desperately wants a hairstyle like mine, but her hair won't do it. I was half-complimented and half-laughing because it pretty much took me until this last year to accept that I will never have fabulous long and luxurious hair. Instead what I have is acceptable hair. So when I finally escaped my denial, I said, "Acceptable hair what would you like to do?"
AH answered, "Live free and wild with no limits."
I said, "Heck no, we will scare small children and I mostly like kids. Plus we'll make all the huskies and beagles howl in protest. Surely we can compromise."
AH gave them some thought, then suggested, "A layered bob deal that you will have to blow dry straight and sometimes use a straight iron on when the weather is ornery."
I agreed and we've been friends ever since. But I felt for whomever that woman was longing for a hairstyle her hair refuses to do. Been there, done that was practically Today Years Old when I gave up the dream.
Friday Part Two: After getting my hair colored, cut and tamed, I met Biker Witch for coffee. We talked for two hours before I even checked the time. Love that! I also tried a salted caramel cookie that I found delicious.
Saturday: Wizard and I went to breakfast which was lovely. Fortified with carbs and caffeine, I rolled up my sleeves and finished cleaning out my kitchen cupboards. That required taking everything out of my pantry which is not a walk-in, but quite big and holds A. Lot. Of. Stuff. It was a chore that resulted into a large bag of trash and a variety pack of sore muscles. But it feels good to have it done. I still need to Murphy Oil Soap the doors, but that's a two hour, and much less painful project I'll do sometime this week. I have to say, yoga has paid off in the ability to control myself into weird pretzels shapes to reach the dark, twisty corners of some very deep cupboards. So that's a plus

Sunday: I made some more Hot Chocolate Bombs, partly as practice, and also to take one or two to Turbo (my grandson) when I go over there today to visit him. (His super patient parents may put me on supervised visits after this since they are so rich, LOL But they give him chocolate milk, so…that's my excuse???)  Anyhow, here's a pic of some of the HC Bombs: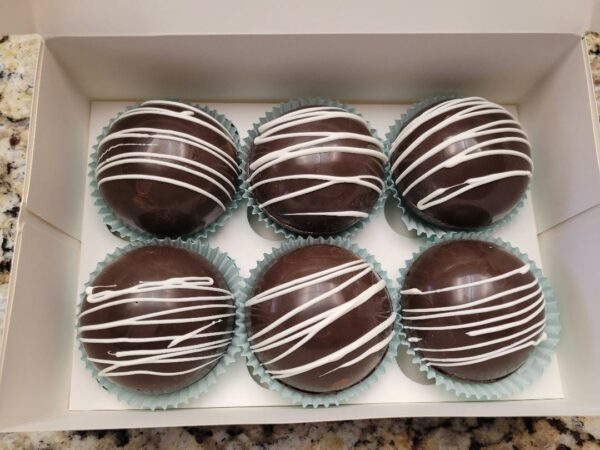 And Maggie and I went for a walk on a gorgeous day: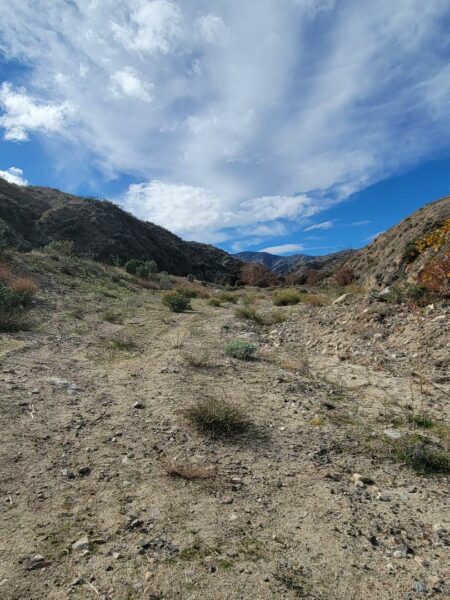 This is the base of the Cleveland National Forest that goes for miles and miles. I didn't go any farther than where I stopped to take the picture because I know packs of coyotes (and other animals) who would consider Maggie an excellent meal live back there. It was warm enough that I was also concerned about snakes. There are  safer dirt roads I mostly stay on but it was a beautiful spot if you appreciate raw land and I wanted to share it.
So that was my weekend, how was yours?