Monday, March 14th, 2022
Weekend Roundup
The weekend was pretty decent, despite the annoying time change. On Friday, I made another Marshall (from PAW Patrol) for Turbo's cake next weekend, and he came out better. It's not as good as I think I can do, but I'm keeping him in case I don't have a chance to redo it before next Sunday (fondant is stable enough to keep a long time at room temp). Here's a quick pick.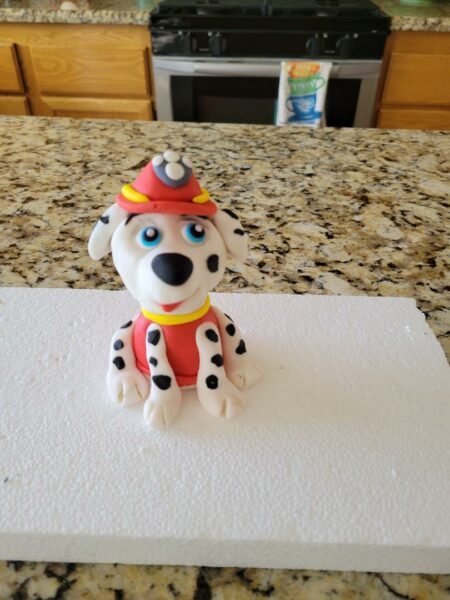 Saturday, we went out to see Turbo. We went to Turbo's swimming lessons, then got him McDonalds. That part of the day was great. But when we left that morning before we left, I went to put Maggie on her leash and take her out front to go to the bathroom. I do this before we're going to be gone for longer trips because I know she'll empty her bladder in this one spot in the yard. Maggie knows this routine well. But this time, she ran to Wizard and hid with her tail tucked. We were both surprised as she never does that. We've been running about so much, I think she was just over it. But it was so unlike her, we both have kept an eye on her to see if something else is wrong, but nope, she's eating fine and acting normal. I suspect she was just trying to get us to stay home or take her with us.
Sunday, Wizard went racing, while I did routine stuff and made a point of hanging out with Maggie and taking her for two walks.
Oh, I got annoyed with books I've been trying to listen to, that I pulled up an oldie — The Bride by Julie Garwood. I'm so enjoying relisting to this one! She was one of my favorite authors many year ago, and I was awestruck when I saw her at my very first conference. However I was so shy then I didn't say anything to her. By the way, I'm still shy by nature, I just hide it well most of the time. Or I think I do

Anyway, that was my weekend, how was yours?