Monday, March 21st, 2022
Weekend Roundup
Good weekend!
Friday, Wizard and I went to lunch. It sounds like a small thing, but we realized we hadn't been doing that with each other lately. It was nice and we talked about doing a wine tasting weekend soon. It doesn't matter if we actually do it as soon as we hope, what matters is taking a little time out of our day for each other and making plans future together aside from the house or around the kids/grandkid.
Saturday I worked on the cake for Turbo, and I made some non-dairy cookies for Youngest. I don't have to make anything extra for Youngest, he'd have been fine. I do it because he seems to appreciate it so much. Plus those cookies are pretty easy, I made the dough on Friday, put it in the fridge, and baked them Saturday when I was done with the cake.
Here's the cake designed exactly as Turbo asked: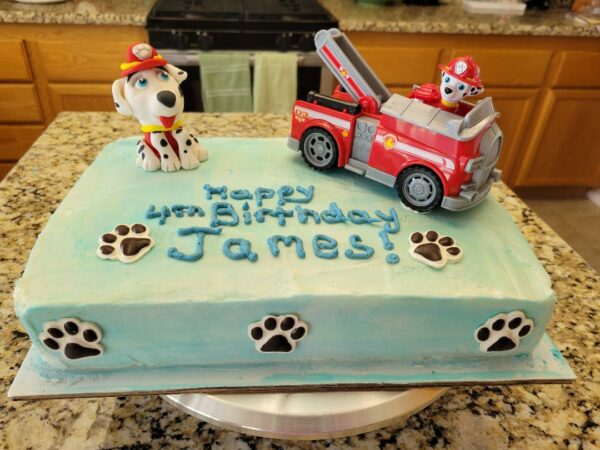 He really liked the cake! He ate Marshalls leg, a chocolate paw print and reasonably small piece of cake

I was thrilled. It was a homemade chocolate cake with a cookies and cream filling. Turbo loves both chocolate and cookies and cream

I was also thrilled because it's the first time middle son and his wife had seen any of my cakes in person, and they were surprised. Middle knew I was doing this stuff, but he said, "Seeing it in person is a lot more impressive." I was honestly and happily surprised at their reaction. But mostly I was happy that Turbo was happy

As always, it's nice to be with family.
How was your weekend?