Monday, July 18th, 2022
Weekend Roundup
Despite a miserable hot weekend, Wizard and I kept busy.
Saturday: Wizard ran errands while I cleaned, then we went in the pool. After that, we were hanging out in the Jacuzzi, and Wizard was trying to convince me that we can fit a pool in our new backyard. Um…okay. Being a good wife, I found the perfect pool to fit our backyard: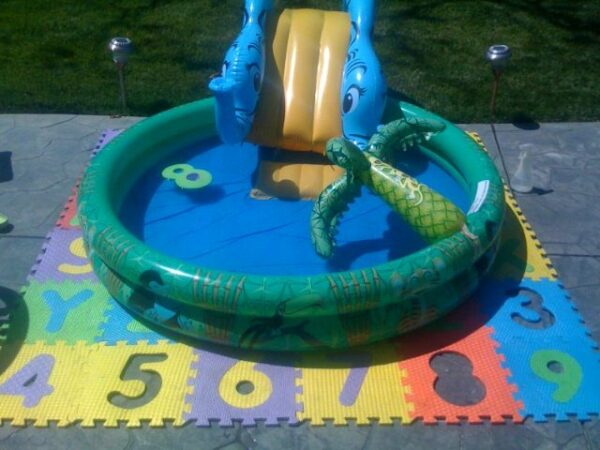 He doesn't think I'm as funny as I do.
Sunday, after doing more busy, boring stuff, we went to our new house. Guys, it's looking like a real house! It has stucco and drywall and it's awesome. The covered patio is going to be exactly what we wanted. While there, Wizard tried again to convince a pool will fit. He was laughing as he said it

It's a darn good thing Youngest has a pool.
Speaking of youngest. He told me the cupcakes cookies I made him were good. Before I go on, these are like a thick and large chocolate chip cookie cup filled with a safe-to-eat cookie dough topping. They are sweet and rich. I texted to Youngest that "Dad ate two with ice cream." Youngest evidently saw this as a competition and replied that he put peanut butter and chocolate sauce on his." After some serious consideration, Wizard agreed with me that youngest won that weird competition.
Then Wizard added "Chocolate Sauce" to the shopping list. I swear it's true.
I added "Tums" for obvious reasons.
In other news, I was trying to persuade myself to get rid of some old books that are falling apart. When I say old, I mean like a few are around 100 years. Some are totally falling apart. Wizard looked at them and said, "Absolutely not, we are not getting rid of these." And he started planning a special display bookcase in out entry hallway. I don't know if we'll ever do it, but I love him for that. So much. We've been trying really hard to seriously downsize our stuff. For example, we tossed my wedding dress. We planned to take it to Goodwill, but when we opened it, it just wasn't in a good enough shape. So we tossed it. (I did take a couple formal gowns in good shape that I hope someone else can buy cheap and use).
We also swapped the living room and family room furniture. We put the stuff we plan to move to the new house in the family room, and put the stuff we plan to sell or give away in the living room where we can take pictures, etc. It's a solid plan, but it doesn't looks right and my brain is lodging a protest, LOL. Packed boxes stacked on one living room wall aren't helping either, but too bad. This is all working toward a goal, and my brain is going to have to learn to live with a little chaos for a few months.
So it was a good weekend. We missing seeing Turbo (our grandson), but we all seem to have stuff going on so we'll all catch up soon.
How was your weekend?