Monday, March 20th, 2023
Weekend Roundup
Turbo's birthday party was awesome! At one point I counted 15 kids, but it was a fluid number so who knows. But man, those kids all had fun! They had a bounce house because my high drive, executive son is still a kid at heart. He may have been the first one it in, and probably the last one out LOL. But otherwise, they kept it simple and the kids loved it. Despite all the chaos that comes with any party, Turbo's parents had a great time too, which I love. Our daughter-in-law had everything organized, but there's always the last minute things you can't control. She rolled with it like a champ, made the adjustments and didn't let it faze her. I love that too!
Kids this age are awesome and so sweet. They'd hug, the hold each others hands to run and play, and were all just in an overall good mood. Seeing Turbo interact with his friends in such a normal, healthy and kind fashion was such a joy. Most of the parents were there too, and really pitching in to watch all the kids which was also really nice and helpful.
When we got there, I showed Turbo the small cake I made him and he exclaimed, "Grandma you made me a Monster Truck Cake!" I knew he'd get it, LOL! I was so happy. My very smart daughter-in-law had a variety of cupcakes for all the kids, so the cake was just for Turbo to blow out his candle, and she was including me by having me make it. I really appreciate her thoughtfulness. For me the cake was just fun to do. I put his name on it, so I'll just show you a side pic of one of the simple, monster trucks I made. Oh before I show the picture, this is a very small 4 inch round cake and maybe two inches high. This monster truck was tiny and hand cut and shaped, so I did the best I could. Also his mom had a special topper to go on the top of the cake.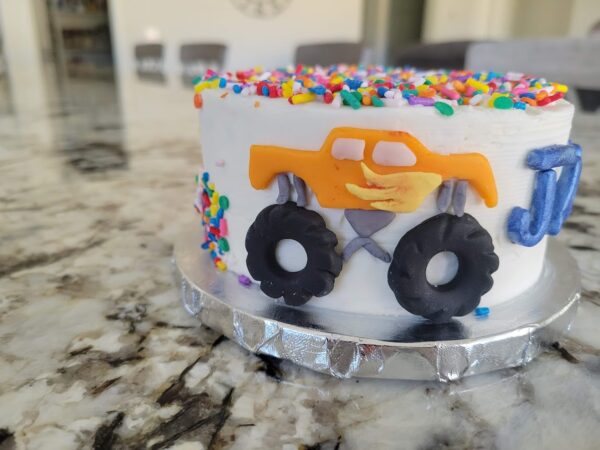 Sunday was quiet exactly as I wanted. While we're just doing normal stuff, we get so busy, I'm learning to plan low key type days now and again. Maggie and I took a couple walks too which is nice.
How was your weekend?