Monday, May 29th, 2023
Happy Memorial Day & Weekend Roundup
Before I get into the roundup, I want to wish everyone in the U.S. a Happy Memorial Day. As we celebrate, it's also an opportunity to take a moment to honor the memory of those who gave their lives for our country, and all those who serve and served. A big Thank You!
Now for the weekend!
Friday was awesome! We headed out to Calico Ghost Town to our son's campsite. They go with two other families they've camped with for a long time. They were all nice and fun folks. Then we headed out on the offroad vehicles. Our son and his wife have a Can AM four seater. He retrofitted it with better safety gear, and provided us with helmets and instructions. He and his wife (and their whole crew) take safety seriously. Having now met their friends and seen first hand how they handle things, I feel even more confident they do a great job of looking out for one another.
That said, one of my smiles was when my son strapped me into the harness the first time and has his wife adjust my helmet to make sure it was fastened correctly. After that time, I was "allowed" to do it on my own, but one of them checked my work when I did it, LOLOL! I'm not actually laughing at them, I'm laughing because once it was me strapping Middle into his car seats, and later his helmets and and safety gear. Life comes full circle but it's all good. Then off we went through the desert on what I believe is called Phillips Loop, which could be called a trail if one is being generous. It was awesome, but I'll say this, there's not a lot of people I would trust to drive these roads and somewhat treacherous conditions. Middle son and his wife co-piloting are at the top of my list.  While he's driving, she is watching and they are both in constant communication with the other two vehicles. I also know my son takes care of his vehicles and equipment. Wizard and I got to just be passengers without any worries

It didn't take too long to get to the Bismarck Mine and Kramer Arch. Here's Wizard and me at the arch: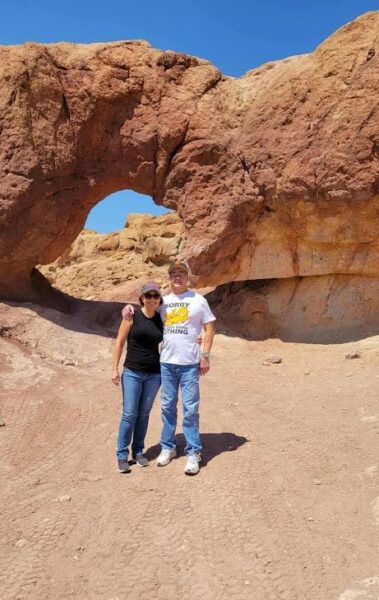 Then Daughter-In-Law, myself and three of the kids went into one of the two mines. I didn't get pictures because I left my phone in my jacket in the vehicle. But everyone else had their phones, so I wasn't concerned. I did worry I'd have to fight my claustrophobia, but it didn't bother me. Partly, I think, because my daughter -in-law has been there many times, and I fully trust her. It was super interesting to see the mine.
After that we headed back to camp, ate lunch then headed into the ghost town to check out the Calico mine, the train ride, and some shops. We ended up in the small patio bar, where Wizard and I sadly didn't drink anything fun. We would have loved to have a beer (or wine in my case), but we were driving home later. At one point, daughter in law and I went to the dog store — a cool shop that sells fun things for dogs including cake mixes! — and I came back to find Wizard and Middle putting each other in the town jail and taking pictures…Boys! They crack me up.
There are a bunch of little stories but I've rambled about it enough. We just had a good day "away" from the real life responsibilities and it was just what we needed.
Saturday we picked up Maggie after lunch and someone had partied too hard on their Spa Weekend. She can't hold her eyes open!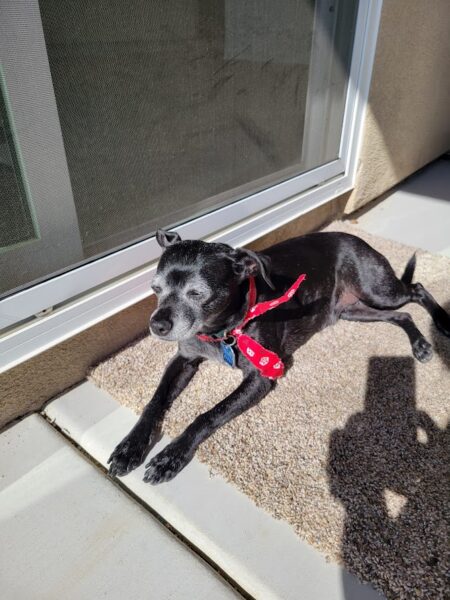 She won't tell us what she did all weekend, but it must have been fun! For the record, she's always happy to see us but displays no anxiety or stress when she comes home. She's goes right back to her routine, eats well and seems happy.
Today we're having Biker Witch and her Biker Hubby over for dinner. We are looking forward to seeing them!
So how was your weekend?