Wednesday, August 23rd, 2023
Quirky Maggie Wednesday
Maggie is developing some interesting quirks.
So now at night, I suddenly feel the bed shake, open my eyes to see two little paws and two eyes staring at me.
The first time this happened, I figured she had to go outside, and took her to the door. She declined and wanted to wake up Wizard. I told her to no and to go back to bed, so she did. I didn't hear anything else from her that night.
The next night, she did it again. Standing at the edge of the bed so I can only see her two paws and eyes staring at me. And I swear I could hear her whisper, "Mom, is it time to get up? Is it? Huh? Can we get up?"
So of course I answered her (or I answered the voice in my head, it's hard to tell the difference in the middle of the night, LOL), "Go back to bed."
"Okay," (again that might be one of the voices in my head I'm hearing and not Maggie actually talking) and she sinks down out of view like she's melting and goes to sleep. I don't hear anything out of her until morning.
She's repeated this every night for a week or so now. She doesn't seem upset, agitated or appear to needs anything. Maybe she's just checking in, or maybe I'm talking in my sleep and she's checking on me? I don't know. It's not bothering me since she goes back to her bed and seems to go to sleep. In the room, Maggie has a dog bed with a blanket and another spot for her beloved comforter. She goes to sleep in the dog bed, and when I get up, she's in the comforter. It's the same routine each night. I've learned not to ask why with Maggie, she's just special :-). Part of me really does think she's just getting older and a bit more quirky. She's a little more tired these days, but still does zoomies and walks around 10 miles a week with me. Her appetite is good and I'm not seeing a sudden escalation in separation anxiety or anything else concerning.
She's just a funny little dog.
Here she is working hard while I'm in the office writing the blog: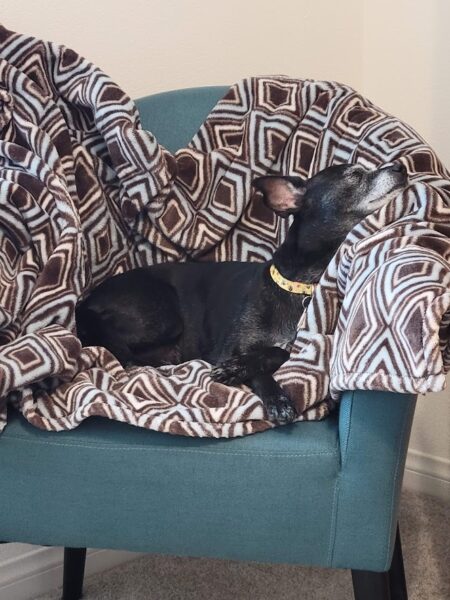 How's your week going?