Monday, October 2nd, 2023
Weekend Roundup
I took a Halloween picture of our yard, but I don't love the way it looks so washed out in the picture, but I'll show it anyway.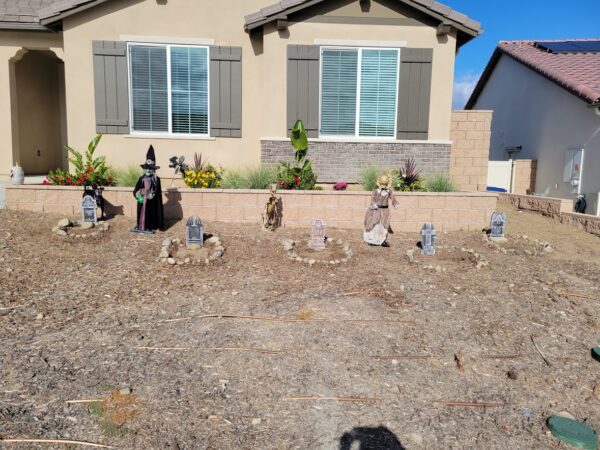 Can you spot Maggie? She's off leash (despite all my ranting about off leash dogs, LOL) and sort of hiding. She was out there with permission, I do let her come out with us lately, but I still think it's not the smartest idea.
Now back to the Halloween stuff. I love the witch (because my daughter in law gave it to me!), the skeleton dog and the pumpkin. They are all motion activated and very cool. The tombstones are just foam and we'll probably toss them after this year. We just did that since we haven't landscaped yet, so it was fun.
The drab looking doll on the end Wizard liked and picked out. I agreed because it was a joint project. She's "Two-faced" (my name for her) with one side was blank painted black, which Wizard repainted in a hilarious way that you probably can't see well in the pic — it's like a child's drawing of a doll face. Anyhow, when Two-faced is motion activated, the head spins to show her horror side. She also says creepy stuff I can't even remember. We call the witch and two-faced "the girls" because we weird. Seriously weird.
The skeleton dog in the middle barks and growls fiercely. The pumpkin on the corner of the planter laughs and says stuff, but he's pretty silly and no one takes him seriously.
We plan lighting but who knows if we'll get to it around dealing with Real Life, If not, we'll add that and more colorful decor next year.  And soon we'll start collecting some Christmas decor. I'm going to keep going while Wizard is into it. It has been a fun distraction through Real Life stuff. For Halloween night, we'll sit outside with candy on the drive way so little kids can bypass the scary stuff if they wish.
Otherwise the weekend came and went and now we're in October and hopefully Fall weather is getting the memo!
So how was your weekend?