Friday, June 19th, 2009
Anger Management Quirks?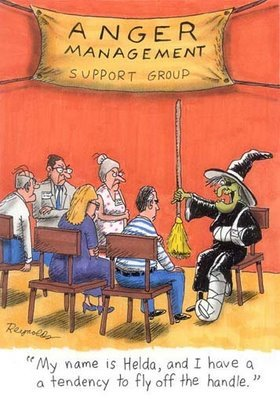 Okay, it's Friday, it's time to let off steam! Right? What is your Anger Management Class Button?
I'll go first. This one is a total personal quirk. There's a reporter on a local news station who I call Comma Guy. Actually he should be named Run On Sentence Guy. But still he talks in Commas, doing this weird pause, then going on  and I just can't get past it. I'm not kidding. He'll report on a story like this: (I'm making up the story but not the way he talks, I swear!)
"The woman, who never realized how lucky she was go have an artificial leg, when confronted with the the cougar, managed, by a dint of surprising bravery, to fight the cougar, with her artificial leg, and knock the cat senseless, and, while doing that, preserve the environment by not using the pepper spray, which her son had given her on Mother's Day…"
And just when you think the sentence is over–
"…the son, who gave his mother the pepper spray, was also with his mother but, because he accidentally cut his finger, had to run to the car for a bandage, and when he got back…"
And by now,  I'm yelling at the TV. The reporter makes me insane. My husband too. The poor reporter has been on the news for years, and others probably love his down home style. Me? I turn the channel before I track down this reporter and yell at him about the proper use of commas. And lecture him about run on sentences! Then I'll be arrested and sent to anger management!
So you guys have any weird quirks like that could get you sent to anger management or is it just me?