Monday, July 6th, 2009
Weekend Roundup!
Had a great weekend!
We went to see HANGOVER. The movie was what I expected–Dumb Guy Humor.  ( I really want to see Transformers!) but Bradley Cooper was all the visual entertainment I needed!
We also had a great time swimming at the pool and hanging out in the Jacuzzi. You'd have to see my hair after a day at the pool.  It does this wave-kink-hard-to-explain-thing. Fortunately, my husband actually LIKES my hair like that. He uses the word sexy.  Every freaking morning I try to tame that insanity out of my hair so that I can look, oh I don't know, normal. And he finds it sexy. Just proves I married the right man!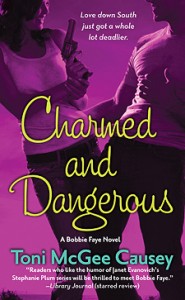 And we went to dinner and I had lobster to match my sunburn. I like to coordinate whenever possible.
Lastly, I'm reading a funny as hell book, CHARMED AND DANGEROUS by Toni McGee Causey. Toni is on the same Murder She Writes blog that I am, and I've been meaning to read this ever since it came out under the original title BOBBY FAYE'S VERY, VERY ,VERY BAD DAY, but I just hadn't gotten to it. Boy was I missing out! Seriously, Toni's writing is like funny-on-crack.  I'm just a bit more than half way through, and totally captivated.
How was your weekend?