Thursday, July 9th, 2009
A NEW Release Date…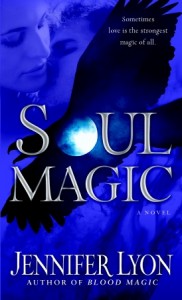 Okay, yeah, I know. Publishing can be a little mind bending.
But SOUL MAGIC's release date has been "updated."
It will be released  October 27th 2009 which makes it a November Release.
Anyone else confused? LOL! Seriously, my editor,  her assistant and all the folks over at Ballantine (Random House) work very hard, and I appreciate everything they do! This was MY fault. I believe this was the correct release date all along and *I* got the wrong information. I should have double checked. I'm sorry for any confusion!
Right now, I'm stirring up a spell to try and make this release date stick!