Monday, August 10th, 2009
Weekend Roundup
My w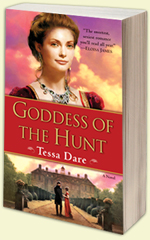 eekend was great! Friday we finally bought a car we've been looking at forever. We keep our cars a long time.  The car we traded in was over nine years old. 
Saturday I went to my chapter meeting of Romance Writer's of America. It's always great to hang out with other writers! That's where I bought  the book I'm reading right now, GODDESS OF THE HUNT by Tessa Dare (Eve Ortega).  I am really enjoying it! It's been a while since I've read a historical romance but now I'm hooked on Tessa Dare's historical romance!
Sunday I went out to lunch with my sister AND she gave me a huge bag of books. My sister and I trade books, so we get twice the reading for half the price—or something like that. Math isn't my strong point!
This week and I am going to be writing like a fiend…although I really want to finish Tessa's book!
How was your weekend?