Thursday, August 13th, 2009
Appletini Worthy News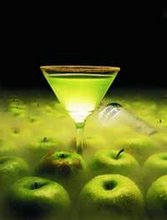 I didn't think it would happen, but I finally finished the draft of BLIND MAGIC. It needs a lot of work before I turn it in, but at least I have a draft! My "draft" is something like 465pages so it's not a small feat. It's at least worth an Appletini…right?
My husband swears every book is this hard, but man, there were so many moments when I never thought I'd get the draft done.
Now if I can revise it into something readable and in on my deadline, that will be truly amazing! But hey, I have a whole two weeks to do it, what am I worried about? Bwhahahaha!!!!
Okay, guys, what's your news? What do you have that is Appletini Worthy?