Monday, September 21st, 2009
Weekend Roundup!
Friday, was awesome as Bailey came over to play…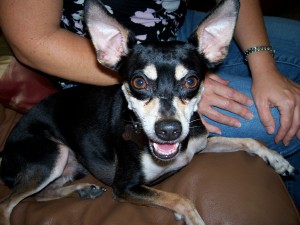 I got no work done! None! And oh yeah, my son came over with Bailey

He's my middle son and always a joy to see.  Plus, he has Bailey! (And yeah, that's part of me behind the dog.)
Saturday started with a trip to the dentist and I realized there are certain things you don't want to see at the dentist's office. Like say the hygienist sharpening her tools. Yep, she had out a sharpening stone and was getting nice points on those hook things. Sigh.
The rest of the weekend was pretty uneventful. I did finished SURRENDER OF A SIREN by Tessa Dare.  It was good.  I enjoyed learning more about life on a ship in 1817.
Now I have to get cracking on the Endless Synopsis. I'm really just not concentrating and staying focused. I will this week!
How was your weekend?