Monday, November 9th, 2009
Monday…Again!
The wizard and I went to dinner Friday night to celebrate our anniversary. We went down to the beach for dinner, very nice! I had lobster and a couple glasses of wine.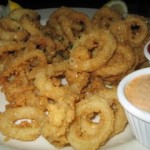 I even tried Calamari! Wizard has been "suggesting" I try it for years.
He swears it doesn't taste like fish. I don't  like fish, although I love shellfish.
So we're in this lovely restaurant, overlooking the boats and I get a sudden infusion of courage (it tasted like wine) and we ordered a calamari appetizer.
Okay, I'll concede it doesn't taste like fish.
It tastes like fried, stringy rubber. But the dipping sauce was really interesting so I ate it.
And drank wine

It went down real smooth that way!
The rest of the weekend was mostly spent working.  One thing I never knew before publishing was how hard I'd work.  But I chose this life!
Oh, I had to run to Target for something else, and accidentally came out with a book. Nalini Singh's BLAZE OF MEMORY! I love Nalini's books but now I'm all testy because I have so little time to read. The book is sitting here on my desk taunting me.
So how was your weekend?