Thursday, April 8th, 2010
You're a Cone Head When…
You're twelve and a half pounds and think you can beat up the big black lab who lives next door.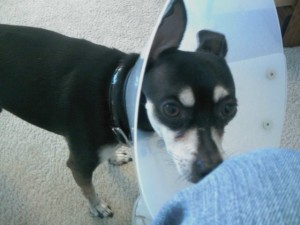 Bailey is fine! It happened a couple weeks ago. The lab next door just wants to play, but Bailey is territorial (aren't all males?) and somehow they got into a tussle through the fence. Bailey's eye was cut, but he healed right up. He only wore the cone for a day. The lab is fine.
Gotta give Bailey props for Bravery! Just because the dog is oh, six times his size, doesn't mean he's gonna back down.