Monday, August 2nd, 2010
Jet Lag Monday!
I'm back from RWA Conference, and WOW! What an experience! There was so much more I wanted to do there! Next time, I will clone myself

First the great news! I got to meet Silver in person! Silver is on the right.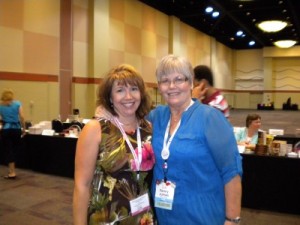 And I was able to wear the shoes…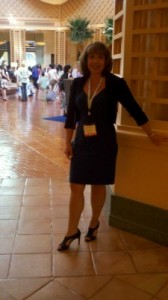 To the National Readers Choice Awards Party where BLOOD MAGIC won for the Paranormal/Fantasy/Futuristic/Time Travel Division. I was stunned and honored! Here I am with the Tombstone Award: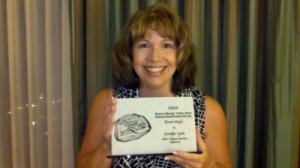 I'm in a different outfit because I'd changed to go out and celebrate.  How did we celebrate? With Ice Cream Sundays! (I know it should have been Appletinis…but ice cream Sundays are always good too!) And yes, I looked THAT tired the entire conference.
I'd like to say a public THANK YOU to the Oklahoma Romance Writers of America Chapter! They've been doing this contest for 17 years, I think and it's one of the most recognized and prestigious contests out there. A big thank you to the contest coordinators, the judges and to Silver who chaired the contest.  I had a wonderful time at the party too! A heartfelt thank you to the chapter and each of you who worked so hard to make this contest a success!
There's so much more I can't even begin to cover it all.
Tomorrow, I will tell you my Dumb Witch Moment.  I think. If I can bring myself to do it.  Wizard says I should…
Oh and speaking of Wizard. My editor, the associate publisher, my agent and a TON of romance writers at the conference all now know about the Puppy Wars between me and Wizard! People were whipping out pictures of their dogs to show me and giving me strategy ideas to win the war. It was so funny! Poor Wizard, he doesn't stand a chance!
Okay, guys, your turn! What did you all do while I was in Orlando?