Thursday, December 9th, 2010
Fun Contest Alert!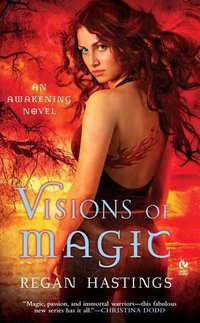 The  author  of the upcoming dark paranormal romance VISIONS OF MAGIC is holding a contest for people to guess her true identity. Go to her Facebook page and click on the Contests tab at the top for details. www.facebook.com/reganhastings
The prize is a super cool Federal Bureau of Witchcraft fleece jacket! I wish I could win!  I can't, dang it!  But I did get a great consolation prize–I got to read an advance copy of Visions of Magic (release date February 1, 2011) and it is awesome! I'm hooked on this series and highly recommend it!
Here's the blurb:
VISIONS OF MAGIC is Book One of Regan's The Awakening series. Once, witches were thought to be the stuff of legend, but then Shea Jamison's aunt was discovered to be a true witch and burned at the stake, the first of many modern-day witches to suffer a fiery fate. With …paranoia running high throughout the world, Shea has been haunted by the Magic Police and the Federal Bureau of Witchcraft. They're looking for any sign that she, too, has powers. But she doesn't! Or at least, she didn't … until the day a dangerous man got too close. Now, struggling with powers she can't control, Shea runs for her life with Torin, an Eternal who swears he can keep her safe, if only she'll give herself to him in a mating ritual older than time itself. But can she trust this would-be rescuer with her heart? And can she believe him when he insists that she is the only person who can save the world?