Monday, December 13th, 2010
Monday Roundup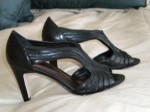 Friday Night we went to Wizard's Christmas dinner for work.  I wore my high heels without falling  or tripping. Even after I had some wine. Pretty impressive huh?
Saturday I went to half of my RWA Chapter meeting, then had lunch with friends and finally, Wizard and I went out to get our Christmas tree. So we were looking at trees, when I some how lost Wizard.  I didn't even realize he'd wandered off until I heard him and other people  shouting "Squirrel!" And laughing like lunatics
Umm, there was no squirrel, they were reenacting the scene from Chevy Chase's CHRISTMAS VACATION. Which is one of Wizard's favorite movies.  If you don't know, don't ask.
The tree is up, but evidently we did NOT buy a self-decorating tree. So I suppose we'll do it the old fashioned way…eventually.
Oh, and for the first time ever, I watched Chronicles of Narnia, The Lion, The Witch and The Wardrobe.  I loved it!
So that was my weekend, how was yours?