Tuesday, December 14th, 2010
What Are You Reading?
Actually, I want to go read now…I just barely started a book and love it so far. But I'll talk more about that book in a minute.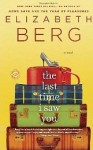 First I read THE LAST TIME I SAW YOU by Elizabeth Berg.  This is not a romance, but a trade sized novel.  I didn't care for it at first, but eventually got into it.  This is a totally different type of book than I normally read. It's all centered around a 40 year high school reunion. I think the fact that I graduated high school a year early at 16 is part of my problem. I was never really a part of the high school culture. But it was interesting.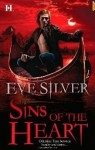 Now onto the next book. I've only read two chapters, but I'm hooked. It's SINS OF THE HEART by Eve Silver. I met Eve a couple years ago at my agent's cocktail party and really liked her.  I've read some of her other books, but I was really looking forward to this new series.   I always hold my breath a little bit when I start a book by someone I've met and liked–I want to love the book but that doesn't always happen.  However, I'd say I'm well on my way to real love with SINS OF THE HEART!
So what are you reading?