Tuesday, December 21st, 2010
Mother Nature's Tantrum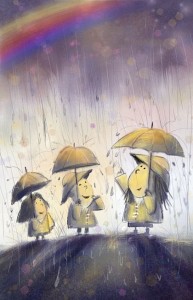 Mother Nature is having a tantrum and raining her bad temper all over Southern California. We are NOT used to having actual weather here in So Cal.  We put up with smog, terrible traffic and other annoyances because of the good weather! But it's been raining for days! One of my windows is leaking–it's been leaking for almost two years, but it so seldom rains here that I keep forgetting about it.
And now the gleeful weather folks are forecasting at least two more days of this nonstop rain.
And I don't even want to talk about the spot on the ceiling I found in one of the bedrooms.  I'm telling myself that it was a shadow…my roof is FINE.  I can't afford a leaky roof, therefore my roof will not leak.
So my question to you all is how the heck do I put a stop to Mother Nature's Temper Tantrum? Any suggestions? There must be a spell or something…