Monday, January 17th, 2011
Happy Monday!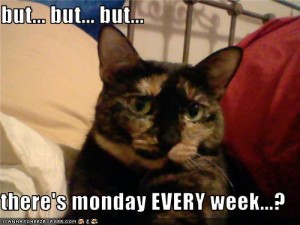 Wizard hid my Kindle from me! I walked into the family room,  and it was GONE!
But of course, I handled it with grace and maturity.  I looked at Wizard and  said, "GIVE IT BACK!"
"What?" He looks up at me from where he's sitting all smug.
"My Kindle! I want it now!"  (uhh, yeah, super mature!)
"Did you lose it? Then he LAUGHED!
And just as I was ready to zap a beehive onto his lap, he relented and gave me a hint.  "Think Witch, what  did you just yell at me about?"
I was really considering that beehive. "My kindle! You stole it!"
"Before that," he says all calm and reasonable.
I thought…. "I told you to stay out of the fruit snacks…oh!" I ran to the cupboard and found my Kindle next to the snacks.  I grabbed up my Kindle, hugged it and did a happy dance.  "All this because I told you to stay out of the fruit snacks?" He would hold my Kindle hostage? What kind of man does that?
"Nah…I was just bored. There's nothing on TV. And you're entertaining as  hell when you have a hissy fit."
Sigh. So how was your weekend?