Monday, October 10th, 2011
Monday Roundup
This weekend was Freaking Fantastic! I went to the Orange County Chapter of RWA's Birthday Bash, with NYT's Bestselling author Susan Mallery and Executive Editor of Harlequin Books, Mary-Theresa Hussey as the speakers.
AWESOME!
Mary-Theresa talked about all the things Harlequin is doing, and frankly it made my head spin. But what really caught my attention as an author was when she talked about all the work the editors there do learning the craft of writing.  They attend intensive workshops on writing, they read selected writing books and discuss them, they also read fiction books and analyze them in meetings. They do the same with movies. I hope I'm remembering this all correctly. But it was very surprising to me.
At one point,  some friends and I were having breakfast with Mary-Theresa and I asked her why they do that, and how they use it.  I was intensely curious. And she had a fantastic answer–it gives them the language to explain to authors what is working, and what needs some revising in their manuscripts.  Let me tell you, as an author who has worked with four different editors to date–that is BRILLIANT.  It makes complete sense to me.  And it shows their ongoing commitment to really grow and develop authors and careers.
Harlequin is doing many amazing things, and truly trying to be on the cutting edge of the dramatically shifting tides of publishing.
The afternoon speaker was Susan Mallery.  Susan's latest book, ONLY HIS, hit #3 on the NYT's in it's debut week. GO SUSAN!!! Susan has written over a 100 books and has built a truly amazing career by always putting her readers first.  I was tremendously inspired by her speech, and wish I'd taken notes.  Her main point was Don't Give Up! She illustrated that beautifully. Then she went on to talking about  setting goals and not getting side tracked. One of the "sidetracks" might be  an contract offer that takes you off the path to your true goal.  Those are the two that come to my overloaded brain at the moment. They were much more powerful in the context of her speech.  I could have listened to her for hours.
And I hung out with my friends.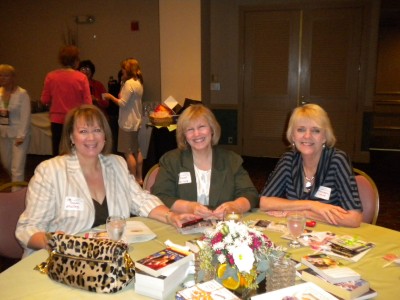 From left to right: Susan Mallery, Kate Carlisle and Maureen Child (aka Regan Hastings)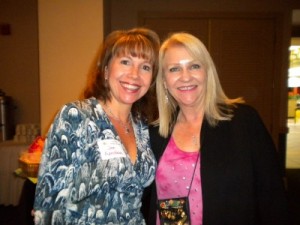 Me and Mindy Neff
Okay, I have more pics–but I'm in those and wish to spare you all

How was your weekend?