Tuesday, October 25th, 2011
Witch, Wizard and Candy
So Wizard and I were having dinner and talking when the subject of candy came up.
Okay, I brought it up. See, this weekend, Wizard decided that I didn't have a freaking clue how to buy Halloween candy.  Since I've only done it for our entire marriage and have yet to turn away kids candy-less on Halloween night, his assumption makes sense.
IF YOU'RE A MAN!
Just saying…
Anyway,  Wizard came home with a HUMONGOUS  bag of candy to supplement the two bags of candy I had already bought.  I was busy so I didn't pay much attention other than to tease him about the sheer quantity of candy he bought. So last night at  dinner, I  asked, "Are there any Heath bars in that bag of candy you bought?"
"No, they didn't have Heath bars."
"Hmm, really. So in the entire store, they didn't have Heath bars? The one candy I asked you to be sure to get?"
Now Wizard know has figured out he probably screwed up.  "No I meant they didn't have any variety bags with Heath Bars."
I shrugged it off. Cuz, you know, I'm totally easy going like that. (Are you laughing?) And then, with total innocence, I said, "You know what I was thinking about today?"
Wizard, very wary now, replied,  "Murder?"
I smiled reassuringly, "Well yes, but that had nothing to do with you."
"Promise? Swear to me on Bailey's life?" I think Wizard might have been sweating a little bit.
I laughed. "Yes I promise on Bailey's life I was not thinking about murdering you, just a character in a book."
Clearly relieved, he asked, "So what were you thinking about?"
I said, "Neccos. You know, these candies."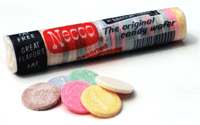 "Damn it, Witch! Now I'm thinking about Neccos. You knew I'd want them as soon as you said it."
I laughed. "Yeah, I knew. I'm thinking about Heath bars and you're thinking about Neccos. We're both suffering."
"Well played, Witch. Well played."
Shh, don't tell Wizard, but I'll probably go out and buy him Neccos this week. While I am thinking about Heath bars (not sure why I fixated on those), I really don't want to eat them right now and Wizard knows it. I'll save my candy splurge for Halloween night. But it was fun to mess with him!
What candy do you tend to fixate on? If any…