Monday, July 30th, 2012
I'm Back!!!
Hey! I so missed you all! Conference turned out to be fabulous. I'll give you the book end photos:
First, Laura Wright and I hosted a small Cocktails with Laura and Jen (a FaceBook Event). Here's a pic from that: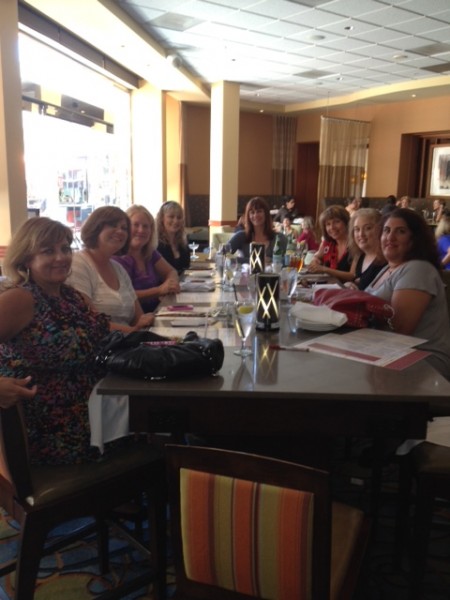 I'm not going to try to name everyone there, but Laura is at the head of the table, and I'm to her left. It was so much fun.
And for the end, the big awards night, here I am with Tessa Dare after she won the RITA for her book A KNIGHT TO SURRENDER (I'm on the left, and Tessa is on the right holding he well deserved RITA statue)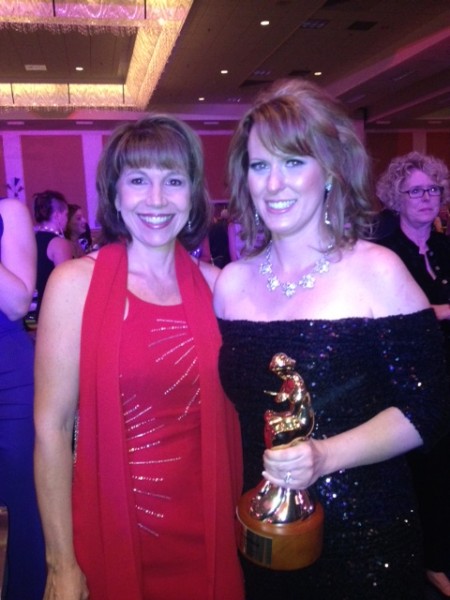 A few highlights:
–The Literacy Signing surprised me.  Many people came up to me and asked that I keep writing The Wing Slayer Hunters, which really touched me.  And I had an even bigger surprise, but that one I'm not talking about, LOL!
— The National Readers Choice Award ceremony/buffet Thursday morning. That was lovely! I was a double finalist, but did not win. Huge congrats to JD Tyler who won for PRIMAL LAW!!
–Lunch with Laura Wright, Elisabeth Naughton and Alexandra Ivy.  Smart, funny and super talented women!
–Friday I had lunch with Silver, and really enjoyed that. Then onto the Dialogue workshop with Laura Wright, Alexandra Ivy,  Darynda Jones, Elisabeth Naughton, Sylvia Day and myself.  The audience members were spectacular! They wrote out dialogue in five minutes and shared it with us. Silver rocked the house with her piece!
–Saturday I hit some great workshops and attended the glittery RITA/Golden Heart Awards in the evening.
I saw a ton of friends as well. Plus while I only got to a half dozen workshops, they were extremely beneficial.
Now I'm ready to work! I'm writing CAGE MAGIC while waiting for revisions on the Entangled book, and have a few other things in the air.
So…now lets talk about you all! What have you been doing?