Friday, September 14th, 2012
Happy Friday; Witch and Wizard
Wizard and I were watching a TV show that mentioned flying monkeys.
Me, " Can we have a flying monkey?"
Wizard looked over at me from the recliner he was bogarting.  "That'd be cool."
Me, "And name him Bo Bo?"
Wizard, "Works for me."
Damn, Wizard is easy tonight! Even if he is taking the recliner I like to read in.
And then, with a totally straight face he asks, "Where do you go to get a flying monkey?"
See, I was expecting him to ask why I wanted to name the flying monkey BoBo. And I was ready to launch into the story of that. But no.  Instead he led me right in to his Reality Check Trap.  And ruined all my fun. So I looked at him sitting all smug in my recliner and replied, "Did I mention I ate all the Klondike Bars?"
"You're lying. You never eat those. You are making that up."
"Nope. I have PMS and I ate them. All. Every one of them." I stared him down.
He finally snapped down the foot rest, stomped into the kitchen and opened the freezer.
I jumped up and got in the recliner and called out, "Amateur. "
"Ha," he answered.  "That's Amateur-Eating-A-Klondike-Bar to you, Witch."
Happy Friday, Witches! Hope you all have a great weekend! Oh and I've given up on the flying monkeys, but I found this picture at I Can Has A Hotdog: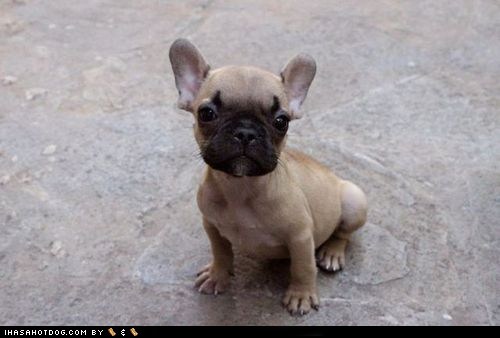 I want him and I'll name him Yoda! Can't wait to tell Wizard…bwhahahaha!!!