Wednesday, November 7th, 2012
Secret Project Reveal!
Today I'm announcing THE PLUS ONE CHRONICLES that I plan to begin self publishing at the end of February 2013. It's a "serial" project, and will be released in installments.  The first one, as I said, will be released at the end of February, and the second one-to-two months after that, and the ones after that will be as quickly as I can write them, and get then professionally and brutally edited. To write WELL takes time.
My plan is to release them in electronic format at first. Then for each two serials I release, I plan to package them together into a trade-sized paperback, if I can do it cost effectively. That is the part I'm still not completely sure of yet, but very much want to do.
Here's the thing, I love this project, I believe it in and so I am investing in it, including hiring a very experienced editor (she works for a well-know publisher, and I am thrilled to work with her on this!), and various other professionals that will help me make this Plus One Chronicles as strong as I can.
This project is a labor of love.  Many years ago I pitched a story to my then-editor, but she had a problem with the  heroine. You see, the heroine had a physical disability and my editor kept calling her crippled due to her slight limp. I want to clarify, this was a great editor, whom I both liked and respected immensely.  But I loved that heroine and knew that the editor and I simply didn't have the same vision for her, so I pulled the project and turned down the contract offer.
It simply wasn't the right time for that heroine's book. I knew it in my gut, and I am so very glad now that I listened to my gut.
Then a few years later,  BLB (nickname for my son) had his accident. At first I didn't see the similarity between that heroine and what my son was enduring, probably because I was so focused on BLB's recovery. But as time went on, that heroine came back to me and this time, she wasn't leaving.  In the years she has grown and changed (in my head) and now it is time for her story.
And she has a hero that is worthy of her, I think

Now, here is the cover, designed by Patricia Schmitt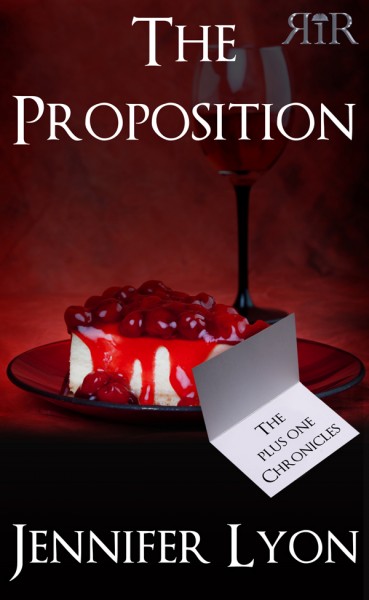 Here is the blurb:
THE PROPOSITION:
Rich, sexy and volatile, Sloane Michaels has a dark agenda that keeps his heart on ice. His extreme wealth gives him the control he craves and his skills as an ex UFC fighter the tools he'll need to extract his ultimate revenge. But when the woman he never believed he'd see again crosses his path, Sloane is caught between the vengeance he needs and a sexual conquest he craves.
Kat Thayne has been in survival mode for six years, hiding behind the sweet creations for her bakery. But when a random carjacking brings her face-to-face with her darkest fears and hottest fantasy, Kat is forced out of hiding and offered a dangerously passionate proposition. One she knows she isn't strong enough to refuse.
These stories will be a very sexy, no-holds-barred rendition of Kat and Sloane's journey. I hope you all will come along for the ride.