Friday, January 4th, 2013
Happy Friday!
I was supposed to be starting POSSESSION  the next book in The Plus One Chronicles yesterday. I wrote the words Chapter One. Does that count as writing?
Promo stuff kept getting in my way. Oh and I sent off THE PROPOSITION to the proofreader. But today I'm going to the gym, then I'm determined to write something. At least more than Chapter One!
Now I culled some pics Wizard took of me when he was "helping" me bake. And by helping, I mean he tasted the cookies and candy. Oh and he got my Mixmaster down from a high shelf.  In this first one, I was covered in flour and chocolate, although it's kind of hard to see in the pic: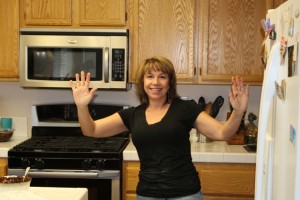 And yeah, that's my kitchen. And that's me. Pretty much what I look like daily, except cleaner.
Then Wizard took this photo at a party and SWEARS it's a good pic. I think I look a little too animated–actually I told Wizard I look demented.  I was laughing at something my niece said.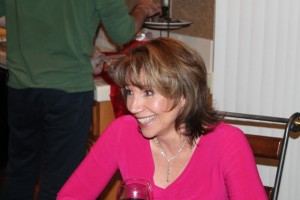 And that's enough pics of me for a very long time.  Although Wizard will be taking some professional shots of me at some point. I'm having my website redone and need new author pics. Except I'm procrastinating doing and putting Wizard off.
This weekend, I'm not sure what I'm doing, probably cleaning and writing and maybe I'll do something fun. What about you?