Monday, January 7th, 2013
Weekend Roundup!
Pretty good weekend. Still struggling to write the first chapter of POSSESSION (book 2 in The Plus One Chronicles) but that's not unusual for me.  I'll get it, but it's frustrating right now.
I broke down and made lemon cupcakes. But in my defense they are Research! Seriously! I even took a picture this time

  And I'm done baking for awhile. Really. I am!
Also, I found out that my book from Entangled, A HERO'S TOUCH (first book in  Once A Marine series) will come out in March.  The next round of edits are coming soon.
I'm going to be so busy, I won't have time to bake much anyway. I want to write at least three more books, maybe four this year.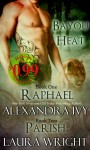 In hot off the presses news, Laura Wright and Alexander Ivy have teamed up to self  publish a new series titled BAYOU HEAT. They just released the first book! Raphael Parish is only 99Cents at Amazon and Barnes and Noble! I read it and loved it.
Okay so how was your weekend?