Friday, January 18th, 2013
Happy Friday!
I'm excited! Guess who is coming over this weekend?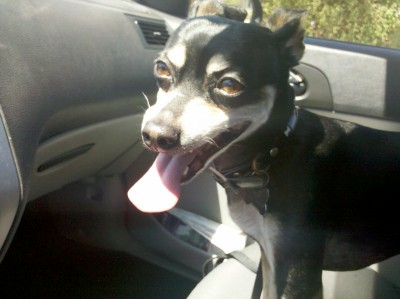 Oh look, Bailey is excited too, he's already in the car!
The only bummer is that I have edits on the Entangled book  and they are due on Monday so I'll be working. But it doesn't matter, I can always make time for Bailey!
Bailey is bringing with him G-Man (middle son, also knows as G-Force).  It'll be fun. G-Man is always up for a party or a nap…kind of like Bailey

In other news, Wizard and I had an argument tonight. We were trying to bet on something in the news, but we couldn't agree on the terms of the bet. He wants the winner to buy the other a chili dog from Weinersnitchel (yuck!) and I want to winner to buy the other a chocolate dipped ice cream cone from McDonald's (yum!) Which would you pick?
Have a great weekend!