Friday, March 21st, 2014
Happy Friday!
This week flew by! It's wild how fast time is going. Yesterday I finally hit a milestone in Exposing The Heiress. I kept writing to a certain page number, then I'd realize, Oh Crap, this isn't working.
That happened 3 or 4 times sending me back to page 1. I've seen other writers make a note that they needed to change the first few chapters and keep going–getting the draft finished. I think that's really smart, but I can't do it. For me, it's like putting frosting on a burnt cake.  I just can't go forward until I have the first part of it right.
I'm still waiting for THE PROPOSITION to clear through Audible (audio book) quality check. I'm really impressed that they check each book though so I don't mind.
And now for the fun party. BAILEY! He came Tuesday night and left Thursday. We had a blast. And of course, since I went grocery shopping while he was here, I bought him a new toy.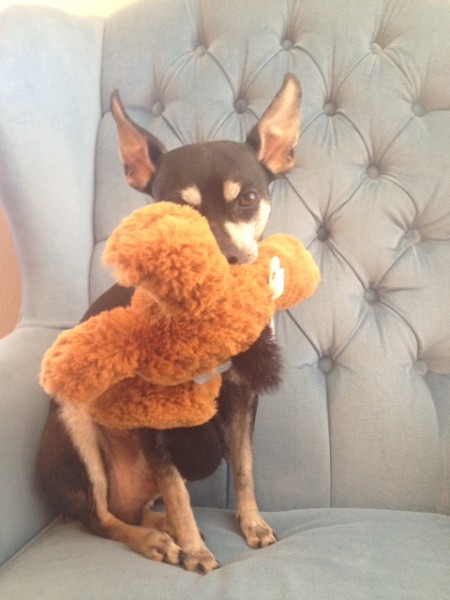 He doesn't look excited in the above picture (that's his "tolerating her taking pictures again" look), but he really was. He showed everyone his new toy. But he spent most of the day out back looking for lizards. He didn't find any, but he never gave up until dark. Then he came in with me to hang out with me…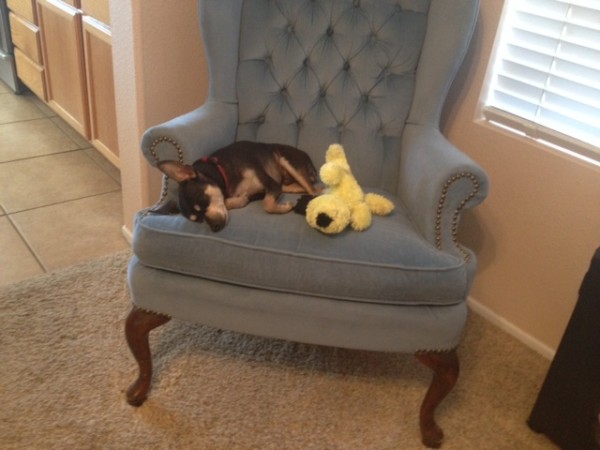 He conked out.  When we went to bed, he didn't move all night long.  Who knew lizard hunting was so exhausting? But he got up happy and raring to go again in the morning.
This weekend, I'm writing and probably cleaning. What are you doing?