Monday, September 15th, 2014
Weekend Roundup!
The wedding was awesome! It was sooo incredibly hot, we're having an awful heat wave, but that didn't dim any of our happiness for my niece. She was gorgeous, and yes, I am totally biased

It was a ton of fun. And I'm so thrilled for my niece. She's a lovely young woman and deserves the best. Romance really does rock

And in other news, I managed to dance and not injure my Achilles as I did last year at CPA boy's wedding.  Wizard was half worried, and half teasing me all night. At one point I was out of the dance floor with the girls (my son's girls, my sister-in-laws and nieces) dancing, and Wizard is sitting in a chair, doing "raise the roof" with his hands and smirking at me. That whole raise the roof thing was how I injure the Achilles last year.  CPA Boys and the others all laughed, just encouraging him.  Okay, I laughed too.
We got Wizard out on the dance floor a couple times too

That was mostly Special K. She, as well as Middle Son and BLB's girlfriends pretty much have Wizard wrapped around their fingers. He knows it and is proud of it. Those girls can talk him into almost anything except a French bulldog–YET. They are really working on him, though!
But enough about that. Oh wait, here's a quick pic of me. Wizard was suppose to take a picture of my dress, but he just did a head and shoulders shot before we left house.  But you can see the color. It's a simple dress–it was too hot for anything more.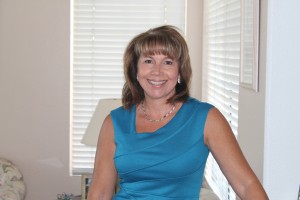 Now moving on. Last Friday, Wizard came home and said, "I'm probably going to take a vacation day on Monday."
I was making enchiladas in the kitchen, and paused to say, "Umm, but you're retiring in just over two weeks."
"I know."
Okay… "So why are you taking a vacation day? I mean, it's only two more weeks."
He looked at me totally serious. "Because I can."
Well I can't argue with that logic. And this means I may as well get used to working when Wizard's home because he seems really committed to retiring

So today, Linc and I are going to hang out in the Wing Slayer World, while Wizard….hmm….I don't know what he's going to do. But he swears he'll leave his "retirement plan" alone to work.
And lastly, as I mentioned before, we're in a brutal heat wave. On Sunday, I got this text from CPA Boy, "Corky regrets his decision to go outside: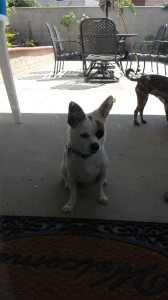 And about ten or fifteen minutes later, I got this text. "Cookie after playing outside for a few minutes"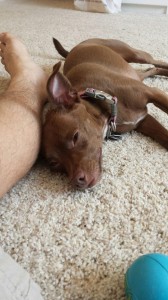 It's just too hot! (That's CPA Boys hairy leg.)
No worries, we're not forgetting Bailey Dog–Bailey is coming to Wizard's retirement party in two weeks!
How was your weekend?