Friday, October 10th, 2014
When I run into people who read my blog I usually get one of two reactions: Either they asked how Bailey's doing because everyone knows I luuvvv Bailey dog (and Cookie and Corky!) or they ask, "Do you make up the stuff about you and Wizard?"
Umm, if I was going to make up stuff about me and Wizard, wouldn't I try to make myself look a little better? But now that Wizard is on Face Book and pretty much outted himself as my husband, I have proof. I actually had screen shots, but I deleted them by accident. (Don't ask…I'm deep in revisions!) So ALREADY on Wizard's FB we have a battle going over getting a puppy. His cousins and friends are getting in on the act and it's pretty funny.
So finally Wizard posted this (since I deleted the screen shot before comments,  I recreated it exactly as he posted it)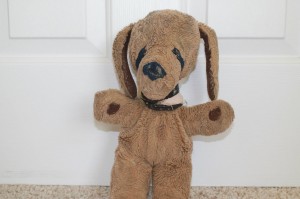 "Ok I give up. I got Jennifer a new puppy. Now is everybody happy??? I have way too much time on hand."
That is not a real dog! That's a beloved stuffed dog that belonged to one of my kids when he was little! Here's the thing, I was WORKING, not paying any attention to Wizard while he did all this. Then the post popped up in my FB feed.
"WIZARD!!!! You can't do that! That's not a dog!"
Evil laugher came from the other room. "You saw my post?"
"That's…" Damn it I won't laugh. "I'm not laughing!"
"You're laughing."
Well of course I was, it was funny. But he can't make me admit it. "I'm ignoring you. I'm busy WORKING!"
"And laughing."
I refused to discuss this anymore and kept on working. Then I got an idea. Wizard wants a Mustang and has for years and years. In the comments of his post, I put this: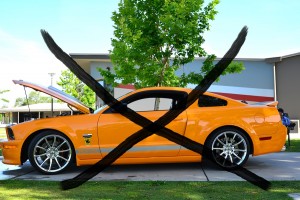 "That's so mean! See the picture for my official response :-)"
An hour later, Wizard yelled at me. "You can't do that!"
"Ha! Who do you think you're messing with? It's on, Wizard!"
Then we both busted up laughing because we have regressed to unsupervised four year olds.
So for those of you who wonder do Witch and Wizard really act like that?  We totally do. We had to be adults all the years we raised our kids. We're over it and are having way too much fun

And by the way, one of his friends said, "Have fun sleeping on the couch, buddy." LOLOL!!! Wizard CAN have a Mustang, but I get any dog I want with no complaints if he ever gets one. We've had that deal for years.
So my weekend plans are working, then making lemon cupcakes with lemon cream cheese frosting. It was Special K's birthday this week, and she requested those cupcakes when we go see her on Sunday.  Much as I love her, I'd make anything she wanted!
What are your plans?