Monday, October 13th, 2014
Weekend Roundup
Oh yay, it's Monday. But the weekend was fantastic. I worked of course.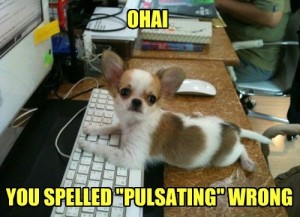 Since this book will likely be moved to a sexier line, most of my editors notes are versions of. "Can we get five sex scenes?" Umm, sure thing. I'm on it. And by the way, Wizard thinks this is hilarious. He's making all kinds of comments that the Blog Police have forbidden me from repeating here.  In all seriousness, the sex must work with the emotional arc to have any real value…I hope I'm doing that but I can't really tell right now.
But I took two huge breaks this weekend. Late Saturday afternoon we went to see GONE GIRL and we both really liked it. Lots of twists and surprises (I didn't read the book and I'm glad I didn't. It was fun to be surprised), then went out to dinner. Sunday afternoon we went over CPA Boy and Special K's for her birthday. It was so easy and fun; pizza, cupcakes, and tons of fun with the two pups. Wizard took his Asus Transformer computer tablet thingie, and he and Special K had their heads together over that, working on something or other–I think they were setting up Nexflix. Everyone is surprised at how much he's done on it already. Wizard LOVES that tablet.
Then Sunday night I'm back at the computer working. It's taken me a while to figure out what I wanted to do to realign this book, but now I'm hooked and working! The changes are almost done, then I'll clean it up and send it off.
So how was your weekend?