Friday, November 14th, 2014
Happy Friday & Writer's Block
So last night at dinner, Wizard and I were talking about Writer's Block.
But before I get to that conversation,  while I was cooking dinner Wizard got super suspicious. "What are you doing?"
"Cooking." I was actually cutting up fresh broccoli to steam. We were having chicken, rice and broccoli.
But Wizard had a problem with that. However he knows better than to say, I don't want vegetables because that conversation never goes well for him. Instead, he's employed this new tactic of acting like I'm trying to get him fat. With vegetables. Seriously. So he says in a completely annoyed voice, "You're making THREE things for dinner? Isn't that too much? We agreed to cut back."
I'm so on to him. "Oh don't worry."
Now he's worried. "Why not?"
I held up the plate of fresh broccoli all prepped to steam. "I'm cooking this broccoli juussstttt to piss you off."
He burst into laughter. That was the last I heard about the broccoli. He even ate some of it.
Okay so while eating dinner, Wizard says, "So what's the deal with your book. I thought you were happy writing this."
"I am."
"Uh huh. You're burping puppies and rainbows, Sunshine."
"What???" I mean seriously, what?
"I didn't want to say farting puppies and rainbows at the dinner table."
<<Insert loud choking. Do not try to drink water and NOT laugh at the same time. I was NOT laughing. >>
Anyhow…once I recovered, he said, "So do you have writer's block or something?"
"Ugh, not writer's block. Me and Batman pretty much agree on writer's block."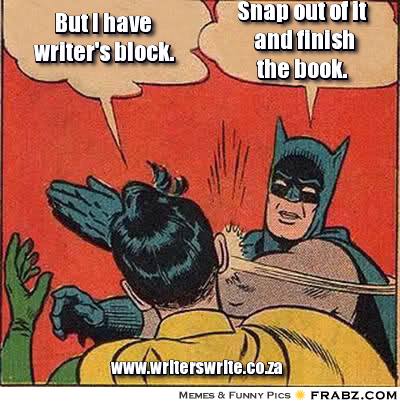 Now that Wizard had that visual in his head, he said, "So what is it?"
"Middle of the book craziness. Here's the thing, Linc lost control of his bloodlust and tried to attack Risa (He didn't touch her, she's fine). He's been working to build her trust and then this…so I have to figure out how to come back from that. I've written probably six different scenes, and now I'm taking apart three of them and putting those together into the scene I think will work. That will show that she was betrayed and upset, while understanding that this is his reality and WHY he needs her to break the curse that causes the bloodlust. This scene needs to have emotional impact and ultimately bring them closer together and build on their connection so the reader can feel it and believe in them.
But I won't know if I've succeeded until I try to  write the NEXT scene. If I've hit the right emotions in my characters, then the next scene will practically write itself. But if I'm stuck and hating it, or feel like the scene is sinking in quick sand, then I did something wrong and have to go back for the millionth time."
I blurted all this out in agonizing detail, then I looked at him "Does that make sense?" I don't know. At this point I'm always feeling lost and unsure. Wondering if I'm in over my head and doubting even my ability to breathe without a cheat sheet.
I was expecting him to say, "You're making this too hard or too complicated." He's told me that before.
But no. Instead he leans over and says, "Yep. You have to get this right or the rest won't work."
I swear, it was like a massive stone was lifted off my chest. Now let's hope Wizard is right. Because you know, this is the same man who thinks vegetables are going to make him fat

So this weekend, I'm going shopping with a friend. Her daughter is getting married next year and we're looking for the perfect mother of the bride dress. Plus we'll have lunch. It'll be fun!
What are you doing this weekend?