Monday, December 15th, 2014
Weekend Roundup!
It was pretty non stop this weekend as Wizard and I tried to get a handle on Christmas, and we're making progress! I got most of the Christmas cards done, finished shopping for Wizard and got started on everyone else. And I'm thinking a lot of about Linc's (CAGED MAGIC, Wing Slayer Hunter) book. But I need to focus on Christmas first.
So…Wizard and I finally decided to give up the fresh tree and get a fake one. Well actually, I've been tired of real trees for two years, while Wizard stubbornly insisted fake ones were too much of a pain. Then he suddenly changed his mind…thanks to a neighbor caving in last year and buying one, then spending fifteen minutes last Thursday telling him Wizard much easier it is to deal with a fake tree. Suddenly Wizard saw the light. Because you know, a MAN told him how easy it was.
Umm, yeah, moving on.
So Thursday night we went on a hunt for a fake tree. We went to Home Depot, Lowes, Target and found it! Loved the one at Target.
But they didn't have it in stock.
So we drove twenty or twenty five miles one way to another Target. And learned there that the were Out of Stock EVERYWHERE IN THE KNOWN UNIVERSE. (Somehow they couldn't figure that out at the first Target).
Crap. So Wizard says. "You know what, let's try Big Lots."
But then we talked ourselves out of Big Lots and went to Wal Mart. DUMB MOVE! Apparently our Wal Mart stocks only Charlie Brown type of artifical Christmas trees. I have baby weeds in my planter with more to them than these trees–it was pathetic.  By then we were tired and cranky and went home, pretty much planning to forgo a tree altogether. I don't even know how many miles we covered in total that night.
Then  Saturday  morning, Wizard went to help him mom out with some stuff and I ran errands. While out I decided to check out Big Lots. Bingo! I found a fake tree CHEAPER than we were wiling to pay. But the problem was I had the smaller car, so I waited until Wizard got home and told him. He's like, "Let's go!" We went and snagged the tree.
Easy, right?
The next morning we go to assemble it and guess what? The tree stand  is missing. It's supposed to be included, it said so on the box!
We jump in the car and head back to Big Lots because we knew there was only ONE of the trees left the night before. When we walked into the store,  I swear to you, SWEAR!!, that the last tree was right there in a customer's basket in the line to check out. Seriously. Wizard stopped dead and said, "Oh my God, that's the last tree. Can you believe it?
Yeah, after the week I had, I totally believe it.  We are 10 minutes too late.
Long story short, (I'm kidding, this isn't short at all!) a guy who works there came to our rescue, giving us the stand off the display tree.  And here's the tree last night: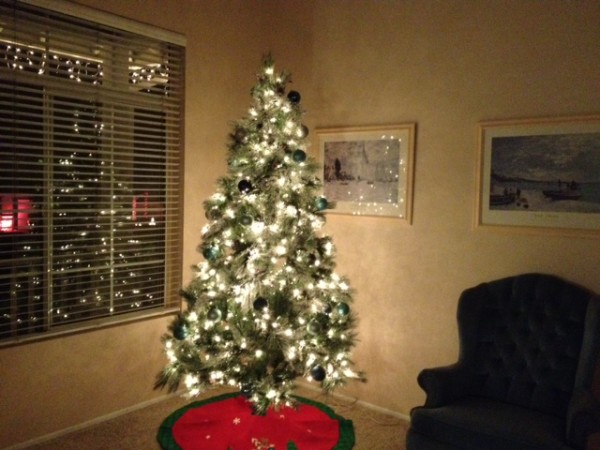 We're both happy with it. The tree is pre lit with clear lights and we just put on a few ornaments. We really wanted to simplify this year so this works well for us.
How was your weekend?